Jul 25, 2022
Frozen Lime Tart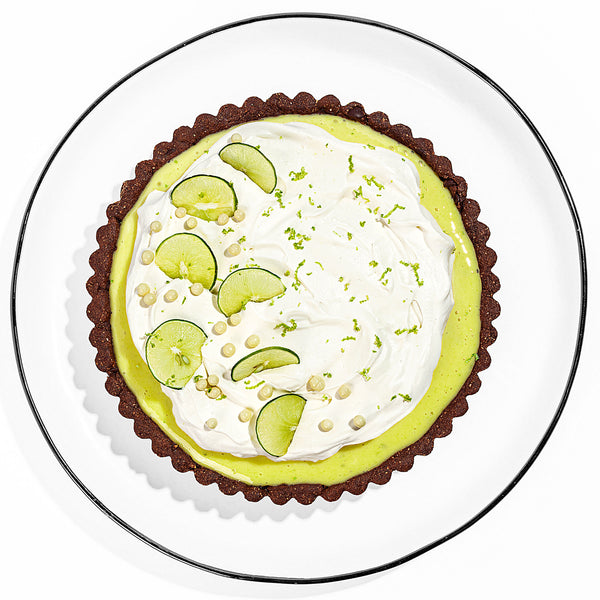 Ingredients
For the Lime Filling 

3 large egg yolks

½ cup (4 ounces) fresh lime juice 

One 14 ounce can sweetened condensed milk 

2 teaspoons lime zest 

For the Whipped Cream 

½ cup heavy whipping cream 

2 teaspoons powdered sugar 

½ teaspoon lime zest 

¼ teaspoon pure vanilla extract 
Instructions
Preheat oven to 350°F.

Evenly press Cappello's Chocolate Chip Cookie dough into an 8-inch tart mold with a removable base.

Place the tart pan on a baking sheet and bake until the crust is golden brown, 14-16 minutes (note, you may have to use the back of a wooden spoon to press down the cookie dough halfway through baking to prevent it from puffing up too much). Remove from oven and let cool. 

Make the lime filling: To a medium heatproof bowl, add egg yolks and lime juice. whisk until combined. 

Place bowl over a saucepan of simmering water, and cook, whisking constantly, until mixture has thickened and registers 160°F on a thermometer, 5-10 minutes. 

Remove bowl from heat. Add condensed milk and zest and whisk until combined. Pour filling into cooled cookie crust and smooth top with a spatula. Place in freezer and freeze until firm, 2-3 hours.

Remove tart from freezer 10 minutes before serving.

Make the whipped cream: To a stand mixer fitted with the whisk attachment add whipping cream, powdered sugar, lime zest, and vanilla. Turn to medium speed and whip until medium peaks form. 

Spread whipped cream evenly over tart, and serve immediately.
Kids Can Do
Press the dough

Whisk the eggs and lime juice

Spread the whipped cream