Aug 09, 2021
Keto Browned Butter Squash & Sage Pizza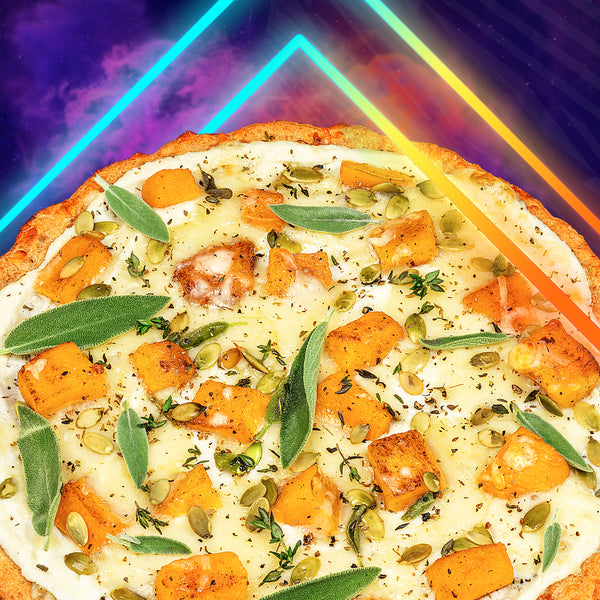 Ingredients
1/2 cup whole milk ricotta cheese
1 teaspoon fresh chopped rosemary
1 teaspoon fresh chopped sage
1/4 teaspoon red pepper flakes
¼ teaspoon onion powder
1 clove garlic, minced
Kosher salt, to taste
Freshly ground black pepper, to taste
1/2 cup peeled and diced butternut squash
2 tablespoons butter
3/4 cup shredded whole milk mozzarella cheese
1/4 cup shredded Parmesan
2 tablespoons pepitas
8-10 sage leaves
1 teaspoon fresh thyme
1 tablespoon olive oil
Instructions
Preheat oven to 420 F. Place baking sheet on middle rack while oven preheats.
In a small bowl combine the ricotta, herbs, spices, and garlic, and season with salt and pepper. Stir together until combined and set aside.
In a large sauté pan over medium heat, melt butter. Continue cooking, stirring occasionally, until butter has browned and smells nutty, about 4-5 minutes. Add the squash to the pan and stir to coat with the browned butter. Sauté 10-12 minutes, or until the squash is cooked through and begins to brown.
Spread the ricotta mixture evenly over the top of the frozen crust. Sprinkle the mozzarella and Parmesan evenly over the top, then top with the butternut squash and pepitas.
Place pizza directly on the preheated baking sheet. Cook 11-14 minutes, or until cheese has melted and the crust is golden brown.
Remove from oven and garnish with herbs and a drizzle of olive oil.
Nutrition Facts (Per Pizza) 
Total Fat: 139g
Saturated Fat: 54g
Polyunsaturated Fat: 3g
Monounsaturated Fat: 26g
Total Carbs: 53g
Dietary Fiber: 24g
Net Carbs: 29g
Protein: 71g