Aug 26, 2021
Keto Chicken Alfredo Pizza w Truffle Oil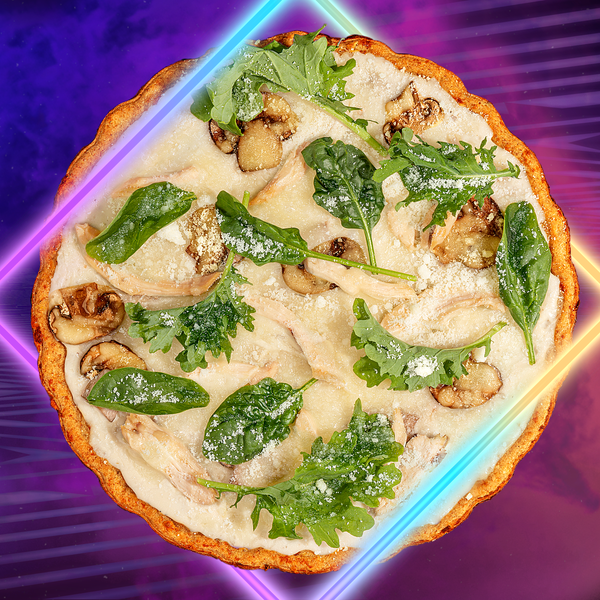 Ingredients
1 tablespoon butter

1 garlic clove, minced

½ cup heavy cream

2 tbsp grated Parmesan

Kosher salt, to taste

Freshly ground black pepper, to taste

1 cup shredded mozzarella cheese

½ cup sliced cremini mushrooms

3 ounces cooked chicken breast, chopped

¼ cup loosely packed baby spinach or kale

1 tablespoon truffle oil
Instructions
Preheat oven to 420 F. Place baking sheet on middle rack while oven preheats.

In a small skillet over medium heat, melt the butter. Add the garlic and cook for 30 seconds. Add the heavy cream and Parmesan and stir to combine. Cook, stirring constantly, until sauce thickens, about 2 minutes more. Remove from heat, and season with salt and freshly ground black pepper.

Spread sauce evenly over the base of the frozen crust. Top with mozzarella, mushrooms and chicken.

Place pizza directly on the preheated baking sheet. Cook 11-13 minutes, or until cheese has melted and the crust is golden brown.

Remove from the oven, top with baby spinach, a drizzle of truffle oi, and extra grated Parmesan, as desired.
Nutrition Facts (Per Pizza) 
Total Fat: 142g
Saturated Fat: 68g
Polyunsaturated Fat: 2g
Monounsaturated Fat: 7g
Total Carbs: 40g
Dietary Fiber: 20g
Net Carbs: 20g
Protein: 59g