Mar 14, 2023
Mango Tart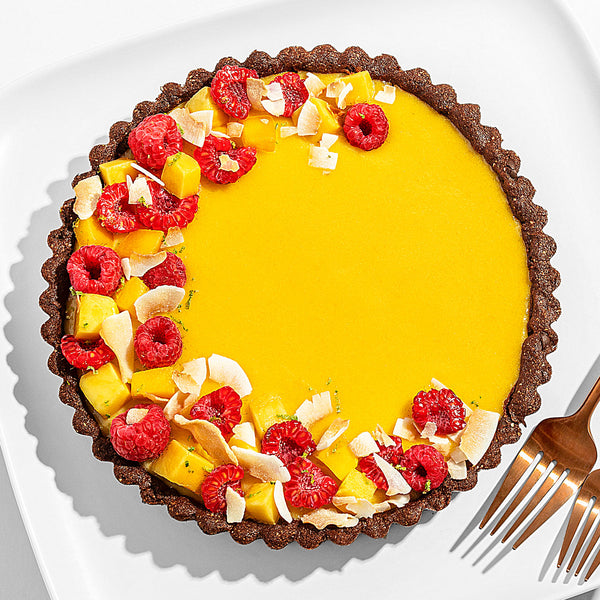 Ingredients
1 cup fresh mango, diced 

4 large egg yolks 

¾ cup granulated sugar, divided 

¼ cup fresh lime juice 

2 teaspoons lime zest 

¼ teaspoon fine sea salt 

¼ cup (½ stick) unsalted butter, chilled & cut into ½-inch cubes 

2 teaspoons vanilla extract 

For finishing 

Fresh mango, raspberries, toasted coconut flakes 
Instructions
Preheat the oven to 350°F.

Bake the crust: Firmly press the Double Chocolate Chip Cookie Dough into an 8-inch tart pan. Place in the oven and bake 10-12 minutes, or until the edges are baked through. Remove from the oven and let cool completely before assembling the tart.

Make the mango curd: To a medium mixing bowl add egg yolks and ¼ cup sugar. Whisk until smooth and set aside.

To a food processor or using an immersion blender add mango. Process until smooth. 

Transfer mango to a 2-quart saucepan. Add lime juice, zest, salt, and remaining½ cup sugar. Bring to a simmer over medium heat, stirring constantly. 

Gradually stream half of the hot mango mixture into the egg mixture, whisking constantly. Transfer curd back to the saucepan. 

Place over medium heat, whisking constantly, until curd thickens and it reaches 170°F on an instant read thermometer. 

Remove from heat and gradually add butter one piece at a time, whisking until smooth between each addition. Whisk in vanilla extract. 

Strain curd through a fine-mesh sieve into a bowl. Then transfer to the cooled tart crust and smooth the surface. Place in the refrigerator until chilled, about 1 hour. 

When ready to serve, top tart with fresh fruit and coconut flakes. Serve chilled. 
Kids Can Do
Help measure ingredients. 

Press cookie dough into tart mold.

Fill baked crust with chilled curd. 

Help decorate the tart