Jan 06, 2020
Pork Lo Mein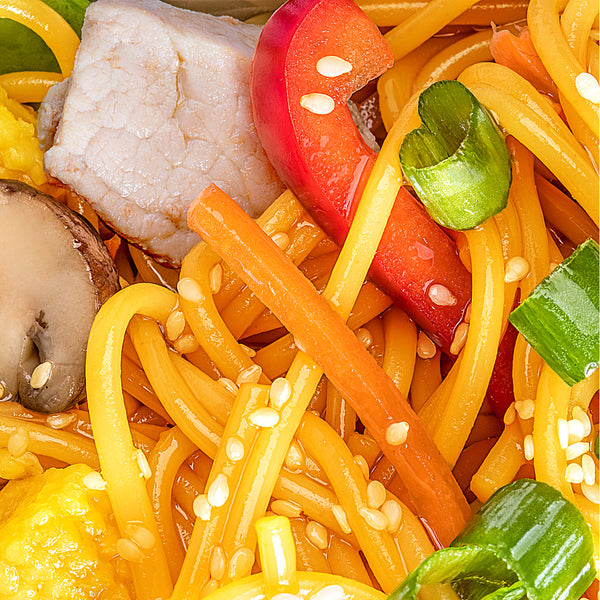 Ingredients
3 tablespoons coconut aminos
1 teaspoon sesame oil
1 teaspoon coconut sugar
1/2 pound boneless pork tenderloin
2 tablespoons sesame oil
3 cups chopped vegetables (snow peas, red peppers, baby corn, carrots, mushrooms, broccoli)
1 tablespoon mirin
2 green onions, chopped
1 teaspoon sesame seeds
Instructions
To make the sauce, whisk the coconut aminos, sesame oil, and coconut sugar together in a small bowl. Set aside.
Cook spaghetti according to package directions. Drain and rinse with cool water. Set aside.
Slice pork tenderloin into bite sized pieces. Heat 1 tablespoon sesame oil in large skillet over medium-high heat. Add pork and cook for 5-6 minutes, or until cooked through.
Remove pork from pan, and wipe clean.
Heat the remaining tablespoon sesame oil in the large skillet. Add the vegetables, and cook about 5 minutes, or until tender. Add the mirin, cooked spaghetti, and half of the sauce. Toss to combine. Add more sauce, as desired.
Serve warm topped with green onions and a sprinkle of sesame seeds.
Additional Info
Prep Time: 10 minutes
Total Time: 30 minutes