Aug 06, 2019
Spaghetti + Meatballs for Two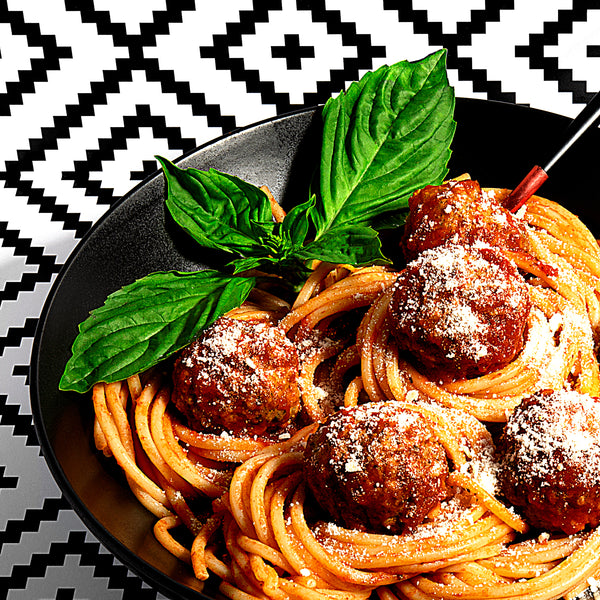 Ingredients
Spaghetti Sauce:
1 (28 ounce) can whole tomatoes with basil
2 tablespoons olive oil
2 tablespoons finely chopped onion
1 clove garlic, minced
1 bay leaf
3 leaves fresh basil, chopped
1/8 teaspoon dried oregano
Pinch of sea salt
Freshly ground black pepper
Fresh basil
Meatballs:
1 egg, lightly beaten
3 tablespoons gluten-free bread crumbs
2 tablespoons chopped onion
1 tablespoon grated Parmesan
1/8 teaspoon pepper
1/4 pound ground beef
1/4 pound Italian sausage
2 teaspoons Italian seasoning
Instructions
Drain tomatoes, setting the juices aside in a separate bowl. Place tomatoes in a food processor and pulse for 20-30 seconds, until finely chopped.
Heat olive oil in a medium saucepan over medium-low heat. Add onion, and cook until soft and just beginning to brown, about 2 minutes. Add garlic, and cook 30 seconds more. Stir in tomatoes and reserved juices. Season with salt, increase heat to medium-high and bring to a boil. Immediately reduce heat to low, add bay leaf, and simmer 30 minutes.
Stir in basil and oregano, and season with pepper, Remove from heat and remove and discard bay leaf.
To make the meatballs, combine all ingredients in a large bowl, and stir until well combined. Form into 2-inch meatballs.
In a large skillet, brown meatballs over medium heat 5-8 minutes. Add spaghetti sauce and bring to a boil. Reduce heat and simmer, uncovered, for 20-30 minutes or until heated through.
Cook spaghetti according to package directions. Serve warm with meatballs, sauce and a sprinkle of Parmesan.
Additional Info
Serves: 2
Prep Time: 20 minutes
Cook Time: 45 minutes