Feb 11, 2022
Football Field Flatbread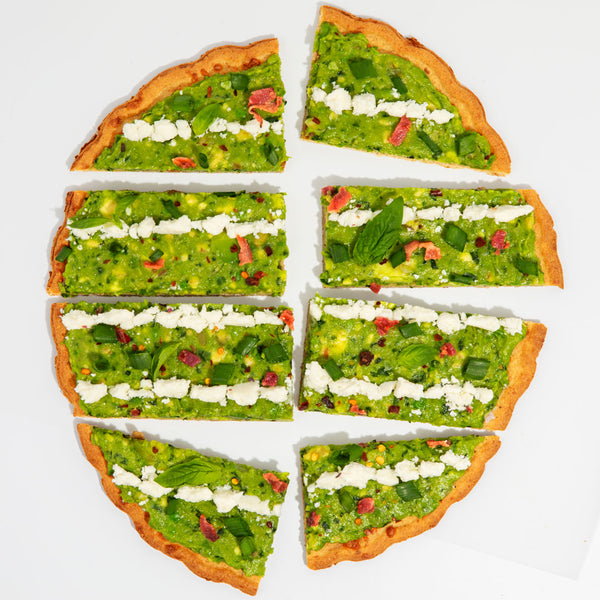 Ingredients
1 Cappello's Pizza Crust (Keto or Naked Crust)

Green Pea Guacamole:

½ cup frozen green peas, cooked

1 small jalapeño, chopped (remove seeds to reduce heat, as desired)

2 tablespoons packed cilantro leaves, chopped

3 small ripe avocados, mashed

2 green onions, thinly sliced

Juice of 1 lime

¾ teaspoon salt 

1 tablespoon toasted pepitas

Toppings:

Queso Fresco, crumbled

1 slice cooked bacon, crumbled

1 green onion, sliced

4-5 leaves fresh basil

Flakey sea salt  
Instructions
Preheat oven to 420 F. Place a baking sheet on the middle rack while the oven preheats.

Cook pizza crust according to package directions until golden brown. 

In a small food processor or blender cup, puree the peas with the jalapeno, and cilantro until almost smooth. Transfer to a medium bowl, and mix in the mashed avocados, green onions, lime juice, and salt. Fold in pepitas.

Spread guacamole over the base of the cooked crust. To create "yard lines" place queso fresco in evenly spaced lines on top of the guacamole. Garnish with crumbled bacon, sliced green onion, fresh basil, and a sprinkle of flakey sea salt. Slice into 8-12 rectangular pieces and serve immediately.
Kids Can Do
Prep time: 10 minutes

Cook time: 16 minutes

Yield: 1 pizza