Apr 19, 2023
One roof. One heart. One goal.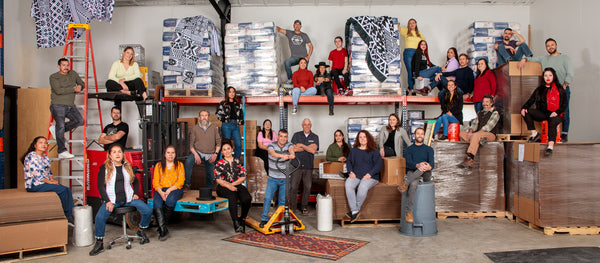 A reflection from our Co-CEO Benjamin Frohlichstein
The last year has been a powerful expression of how working side by side IRL with your people just can't be replicated through Zoom. Bridging the gap between our production staff and our corporate staff has created a newly energized organization. 
The Cappello's plant, where we make so many of our beloved products, where Stacey and I would spend 14 hour days packaging up product for the farmers' market or running gnocchi down the street to a local restaurant, is where the majority of our staff work, but has always been separated from our corporate office. It wasn't necessarily by design, more of a byproduct of limited office space and location, and this is just how it was…until recently! 
During a large build out of our ever-expanding facility we had an opportunity to build additional office space, a gorgeous light filled break room and an RnD kitchen. Some more warehousing space and even a fancy conference room with all the latest video conferencing tech. I guess we're all grown up now, lol. 
All that's great, but what truly made it special was now we had a space where everyone from Cappello's could be under one roof. The 2x a year we would all get together as a company was never enough and there was always a question of how to bring us all together more.
The majority of our production staff, known as the Commie Crew, a word play on the first Cappello's commissary space we had, are bi-lingual or ESL. Many folks on the corporate crew, including my brilliant and multi-talented co-founder, speak Spanish as a second language, but not everyone. 
In an effort to create more connection and curiosity, we hired a group from Boulder called Simplify Language whose mission is; Be understood. Be inclusive. It was an all-hands-on deck immersive experience which made it clear that everyone on the Crew was eager to find more ways to connect. 
I've personally been so inspired by the full Crew's continued desire to find ways of acknowledging each other's work and see the role each of us play in bringing our products to life. 
It's re-sparked in me the desire that helped birth the brand over 12 years ago; creating a tangible energetic exchange and recognizing that from the seed to soil to the last bite on the plate, there is a multifaceted, interconnected living system of many people, moments and acts that go into making something as seemingly simple as pasta. 

I never thought that by passing people in the halls or having lunch with a member of the Commie Crew, or playing bingo cards while folks were on break, that my own spirit could feel so nourished— it's so obvious in retrospect. I can't go back in time, but what I can do is be grateful that our little family of pasta-makers, logistics coordinators, graphic designers, forklift masters, R&D tinkerers and many more are all home now under one big roof, and it's lovely. 
— Ben