Mar 22, 2015
Meaty Tomato Lasagna
Shared with permission from Easy Paleo Meals by Kelly Brozyna. I am so proud of this lasagna. It tastes amazing, and it's free of the unhealthy substitutes commonly found in dairy-free lasagna: tofu and packaged fake cheese. Don't let the watery "cheese" fool you—it sets up perfectly when baked! Ghee or avocado oil, for the baking dish.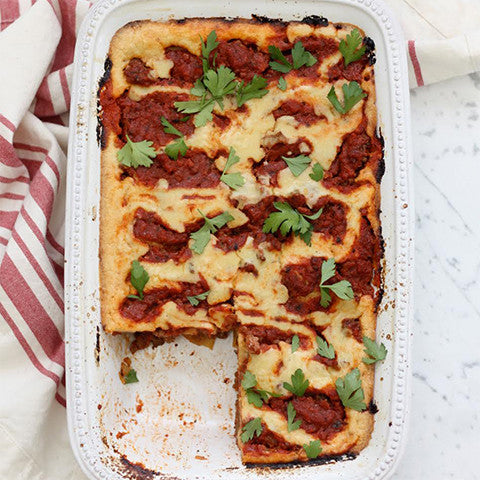 Ingredients
1 tablespoon ghee
2 pounds grass-fed ground beef
4 cups strained tomatoes
1 tablespoon apple cider vinegar
1 tablespoon plus 1 teaspoon Italian seasoning
2 teaspoons fine sea salt
1 teaspoon onion powder
1 teaspoon garlic powder
1½ cups raw cashews
1½ cups water
1½ teaspoons salt blend (such as Herbamare)
2 teaspoons fresh-squeezed lemon juice
¼ cup ghee
2 tablespoons arrowroot or tapioca flour
4 large eggs, whisked
1 (12-ounce) package Cappello's fresh grain-free and gluten-free lasagna sheets
Instructions
Set the oven to 350°F. Lightly grease a 5-quart baking dish (approximately 13 by 9 by 2 inches) and set it aside.
Make the meat sauce: Place a 12-inch skillet over low to medium heat. Add the tablespoon of ghee and the beef. Break up the beef with a spatula and cook until no longer pink. Add the tomatoes, vinegar, Italian seasoning, salt, onion powder, and garlic powder to the beef and stir. Bring the meat sauce to a simmer, then turn off the heat.
Make the "cheese": Puree the cashews, water, Salt Blend, and lemon juice in a blender until completely smooth. Heat the ghee in a small heavy-bottomed pot over medium heat. Whisk the arrowroot or tapioca flour into the ghee. Whisk the cashew puree into the arrowroot mixture to thicken it, then remove the mixture from the heat.
When the cashew puree is room temperature, add the whisked eggs. Note: If the cashew mixture is hot, it will scramble the eggs, so make sure it's room temperature first. Otherwise, you will need to temper the eggs.
To assemble: Arrange a single layer of noodles across the bottom of the dish, followed by a third of the meat sauce. Pour a third of the "cheese" over the meat sauce, then repeat the layers, ending with "cheese." There will be a total of three layers.
Bake uncovered for 40 minutes until the "cheese" is set. Allow the lasagna to cool for 30 minutes, then serve.
Additional Info
Serves 10
Prep Time: 25 minutes
Cook Time: 50 minutes