Nov 13, 2020
Apple Cranberry Pizza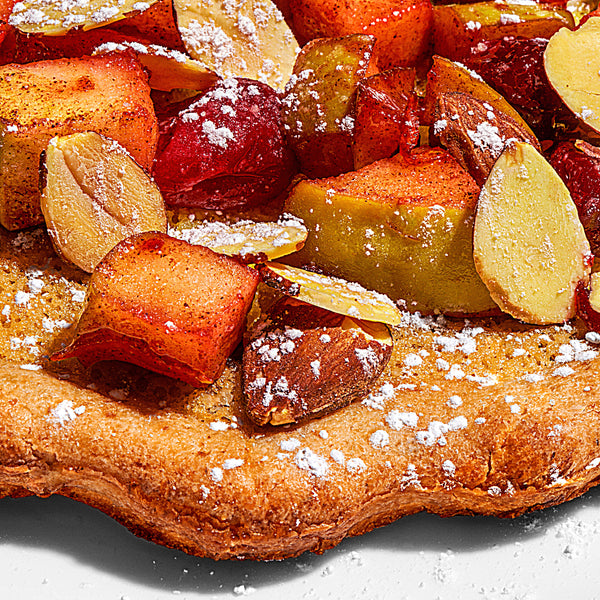 Ingredients 
2 tablespoons unsalted butter, softened
2 tablespoons granulated sugar
1/4 cup almond flour
1 large egg yolk
1/2 teaspoon vanilla extract
2 tablespoons unsalted butter, melted
1 cup Granny Smith apple, cored and diced
3/4 cup fresh cranberries
2 tablespoons orange juice
1 1/2 tablespoons granulated sugar
1 teaspoon orange zest
1/2 teaspoon ground cinnamon
2 tablespoons sliced almonds, toasted
Instructions
Preheat the oven to 425°F. Place the baking sheet on the middle rack while the oven preheats.
In a small mixing bowl, add all ingredients for the almond cream. Stir to combine and spread evenly over the crust. Place pizza on a preheated baking sheet and bake until the crust begins to brown and almond cream has set, 11-15 minutes.
While the crust is baking, make the apple topping. In a medium sauté pan melt the butter. Add apples, cranberries, orange juice, sugar, orange zest, and cinnamon. Place on a stove set to medium heat. Cook, stirring occasionally until apples are translucent and cranberries begin to pop, 5-8 minutes.
Top crust with apple cranberry mixture and toasted sliced almonds. Dust with powdered sugar, slice, and serve warm.
Kids Can Do
Help whisk the almond cream
Scoop the apple mixture onto the crust
Top with almonds and powdered sugar