Sep 21, 2020
Apple Crisp Cookie Dough Cups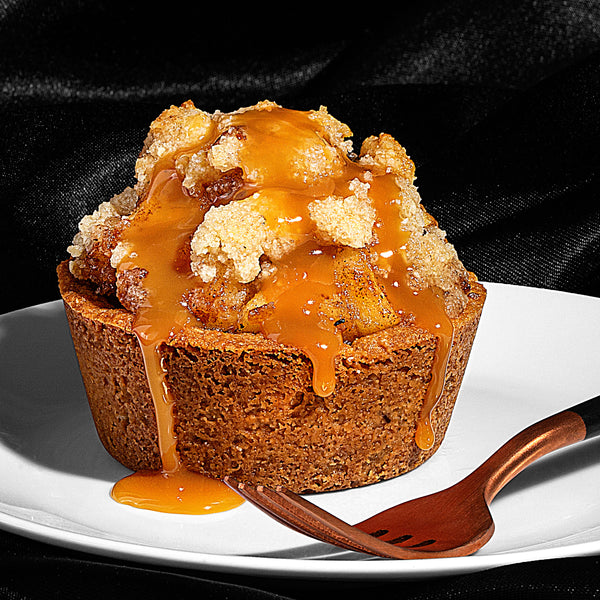 Ingredients:
4 small apples, peeled, cored, & cut into 1/2-in cubes
3 tablespoons unsalted butter
1/4 cup granulated sugar
1 teaspoon ground cinnamon
1/4 teaspoon ground nutmeg
1 tablespoon cornstarch
1/2 lemon, juiced
1/3 cup almond flour
1/4 cup granulated sugar
2 tablespoons unsalted butter, melted
1/4 teaspoon ground nutmeg
caramel sauce
vanilla ice cream
Instructions: 
Remove all chocolate chips from the dough. Divide dough into 6 rounds. Press the dough into a well-oiled muffin pan.
Bake for 12-15 minutes at 350 F (if the cookie dough puffs, use the back of a spoon to flatten the base). Let cups cool slightly then remove from muffin tin and place on a baking sheet. Leave the oven on.
In a saute pan cook apples in butter, sugar and seasonings over medium heat. Once apples are translucent, add cornstarch and lemon juice. Cook until mixture thickens. Divide evenly between the cups, allowing it to mound.
Combine almond flour, sugar, butter and nutmeg. Stir until crumbly. Top cups with crumble. Place back in the oven and cook for an additional 5-10 minutes, or until crumble sets.
Kids Can Do
Separate the chips from the dough
Press the dough into the pan
Mix and sprinkle the crumble