Mar 29, 2021
Avocado Pesto Spaghetti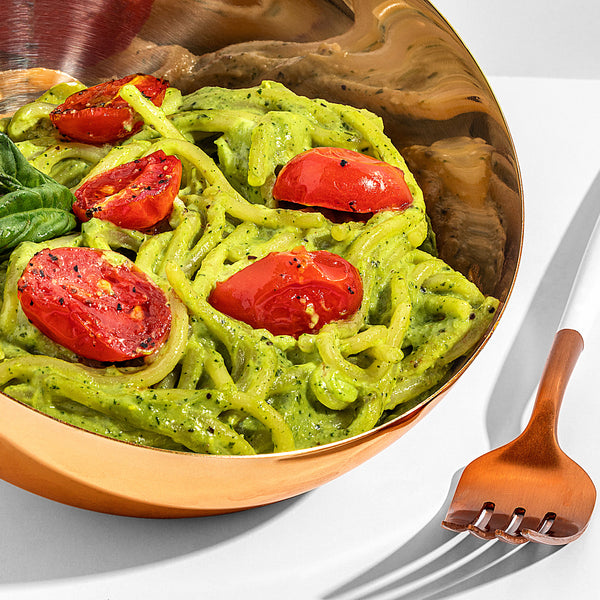 Ingredients
1 cup fresh basil, packed
¼ cup water
3 tablespoons extra virgin olive oil, divided
3 tablespoons pine nuts
2 cloves garlic
1 ripe avocado, skin & pit removed
½ teaspoon kosher salt
¼ teaspoon ground black pepper
⅛ teaspoon red pepper flakes
For the Roasted Tomatoes:
½ cup cherry tomatoes, halved
2 teaspoons extra virgin olive oil
¼ teaspoon kosher salt
⅛ teaspoon ground pepper
For Finishing:
¼ cup fresh basil, chopped
Instructions
Preheat the oven to 375 F.
Make the roasted tomatoes. Toss tomatoes with oil, salt and pepper. Evenly spread tomatoes on a baking sheet lined with parchment paper. Bake until tomatoes blister, 15-20 minutes. Remove from the oven and set aside.
Add basil, water, pine nuts, lemon juice, garlic, avocado, salt, black pepper and red pepper flakes to the jar of a blender or food processor.
Blend until very smooth, adjusting seasoning as needed.
Add spaghetti to a 3-quart pot of boiling water with remaining 1 tablespoon oil. Stir to separate the strands. Pasta will cook in approximately 90 seconds.
Drain the spaghetti and rinse it under cold water. Add it to the pesto. Stir until noodles are coated. Top with roasted tomatoes and basil and serve.
Kids Can Do
Measure out ingredients
Add ingredients to pan
Help toss the noodles and sauce