Apr 19, 2018
Baby Kale Pesto Pizza
Walnut & Baby Kale Pesto Cheese Pizza Cheese pizza is a classic. Earthy, salty, and perfectly indulgent. But sometimes, I crave a little "extra." This bright and bold baby kale pesto is just the vibrant contrast I desired when I hit the kitchen to jazz up my Cappello's grain-free cheese pizza. You'll have a little bit of pesto from this recipe leftover, which makes the perfect dip for your favorite veggies, or sauce for tossing your favorite noodles in.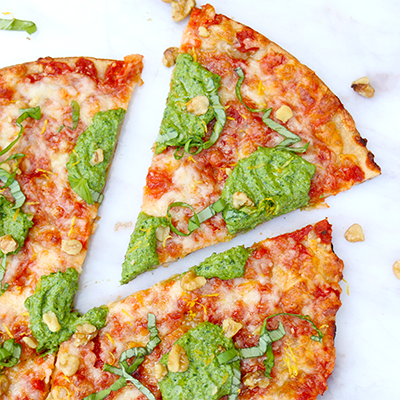 Ingredients
1 Cappello's Cheese Pizza

 

1 batch baby kale pesto (recipe below)
6-7 fresh basil leaves, thinly sliced
1 teaspoon lemon zest
Baby Kale Pesto Ingredients:
3 cups packed baby kale
½ cup raw walnuts
¼ cup extra virgin olive oil
2 tablespoons fresh lemon juice
½ teaspoon garlic powder
½ teaspoon onion powder
Instructions
Position an oven rack and baking sheet to the lowest level, and preheat to 450 F.
Add all pesto ingredients to a high-speed blender. Blend on medium-low power until the pesto reaches your desired consistency. Stop to scrape down the sides as needed, and test for S&P. If you like a thinner, more drizzle-worthy pesto, continue to add lemon juice and olive oil. If you prefer a dollop-style pesto, use the provided ratios and adjust spices and walnuts as needed.
Remove the pizza from the freezer and packaging, and decorate with spoonfuls of pesto until desired amount is reached (about ½-¾ of the pesto).
Carefully place pizza on the baking sheet, and bake for 10-12 minutes, or until crisp and lightly browned.
Remove pizza from oven, and garnish with fresh basil and lemon zest. Enjoy immediately!
Additional Info