Oct 24, 2020
Baked Cookie Dough Pumpkin Donuts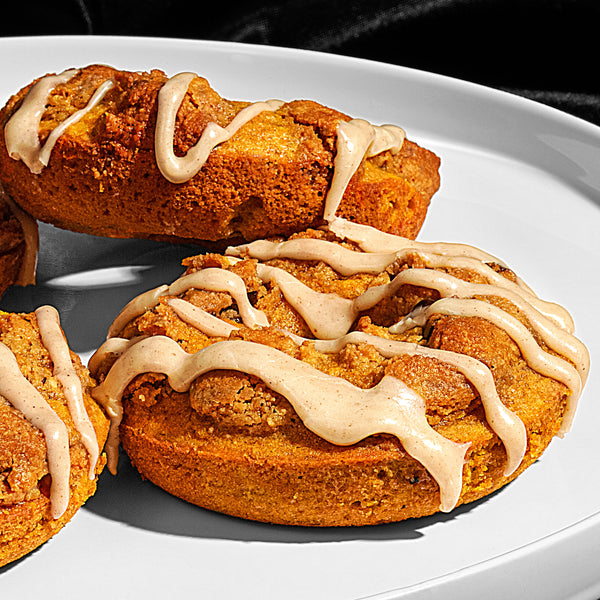 Ingredients
1/2 cup Paleo Flour Baking Mix
1/2 teaspoon ground cinnamon
1/4 teaspoon freshly ground nutmeg
1/8 teaspoon sea salt
1 large egg + 1 large egg yolk
1/4 cup pumpkin puree
1/3 cup pure maple syrup
2 tablespoons almond milk
2 tablespoons olive oil
1/2 teaspoon vanilla extract
1 cup powdered sugar
1 tablespoon maple syrup
1 tablespoon unsalted butter, melted
1 tablespoon almond milk
1/4 teaspoon ground cinnamon
1/8 teaspoon sea salt
Instructions
Preheat the oven to 350° F. Grease a 6-well donut pan with cooking spray and set aside.
In a medium-sized mixing bowl, whisk together the dry ingredients: the Paleo flour, cinnamon, nutmeg, and salt.
In a separate, medium-sized bowl, whisk together the wet ingredients: the eggs, pumpkin puree, maple syrup, almond milk, oil, and vanilla extract.
Pour the wet ingredients into the dry and whisk until fully incorporated.
Spoon the batter into the greased donut pan, filling each mold almost to the top. Top each donut well with an even sprinkling of Chocolate Chip Cookie Dough.
Bake for 18-20 minutes, or until the donuts are set. Remove the pan from the oven and unmold the donuts onto a wire rack. Let cool completely before icing.
In a small mixing bowl add all ingredients for the icing.
Whisk until combined and drizzle over the tops of the donuts.
Kids Can Do
Whisk the dry ingredients
Add the cookie dough to the batter
Whisk the icing
Top the donuts with the icing