Dec 15, 2022
Baked Spiced Pears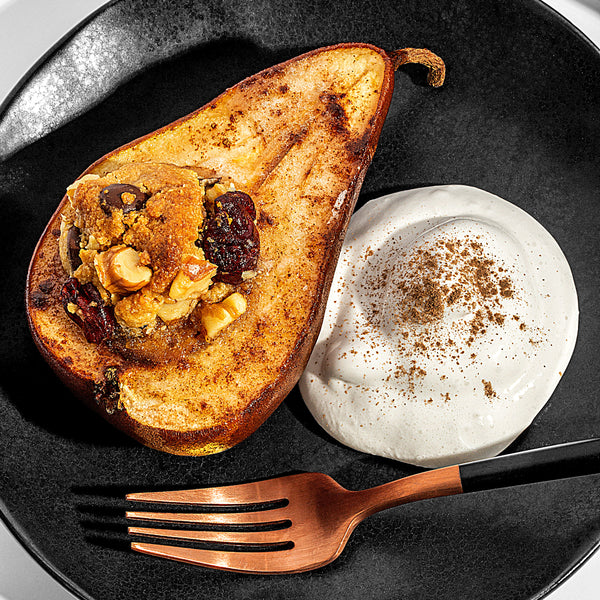 Ingredients
4 D'Anjou, Bosc, or Bartlett pears

2 tablespoons coconut oil, melted 

2 tablespoons honey 

1 teaspoon ground cinnamon  

2 tablespoons walnuts, chopped  

1 tablespoon dried cranberries 

Optional Toppings:

whipped coconut cream

dairy-free ice cream 
Instructions
Preheat oven to 350 F. 

In a small mixing bowl add 4 ounces of cookie dough, walnuts, and cranberries. Stir to combine. Divide and shape dough into roughly 1-inch balls. Set aside.

Slice pears in half and use a teaspoon to create a well by scooping out the core. Arrange pears in a shallow baking dish. (Note: you can slice a small piece off the bottom of the pears to help them sit straight).  

Brushed melted coconut oil over pears. Drizzle honey over the tops and sprinkle with cinnamon. Fill the well of each pear with a cookie dough ball. Cover baking dish with foil. 

Bake until pears are easily pierced with a fork and topping is golden, 35-40 minutes. Serve with whipped coconut cream or ice cream. 
Kids Can Do
Mix the cookie dough mixture. 

Fill the pears with cookie dough

Add the toppings