Apr 26, 2020
BBQ Jackfruit Pulled Pork Pizza with Pineapple and Jalapeno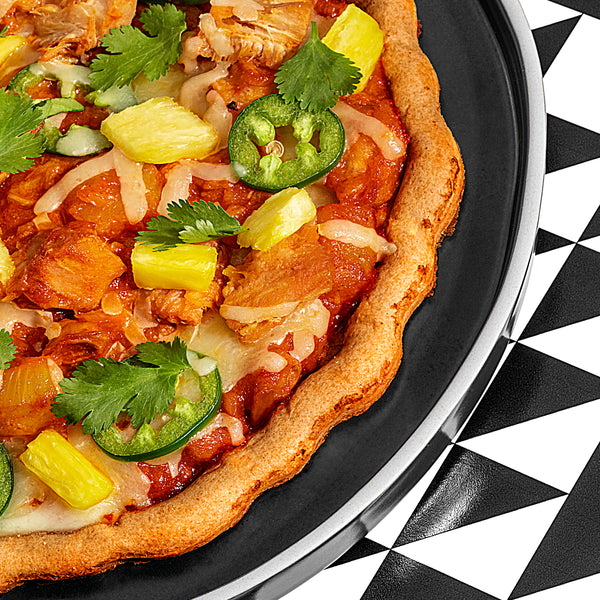 Ingredients
1/4 yellow onion, diced
1 tablespoon oil
1/3 cup ketchup
1/4 cup apple cider vinegar
3 tablespoons brown sugar
1 teaspoon salt
1 teaspoon garlic
1 teaspoon cumin
1 teaspoon smoked paprika
1/2 cup pineapple chunks, divided
1 cup jackfruit, we recommend the Jackfruit Co
1 cup pizza cheese
1/2 jalapeno, sliced thin
1/4 cup cilantro leaves, optional
Instructions
Preheat oven to 425 F.
In a small sauce pan, sauté the onions in the oil until translucent, about 3-5 minutes.
Add in the ketchup, apple cider vinegar, brown sugar, salt, garlic, cumin, smoked paprika, 1/4 cup of the pineapple chunks; mix well and cook for about 10 minutes.
Add in the jackfruit and cook for another 5 minutes.
Scoop 3/4 of the BBQ Jackfruit onto the crust; top with cheese then add the remaining BBQ mixture.
Top with the remaining 1/4 cup of pineapple and jalapeño.
Bake for 11-13 minutes; remove from the oven and garnish with cilantro if desired.
Kids Can Do
Help to stir the the BBQ sauce ingredients together
Sprinkle the cheese
Arrange the pineapple chunks