May 25, 2023
Brown Butter, Lemon, and Arugula Spaghetti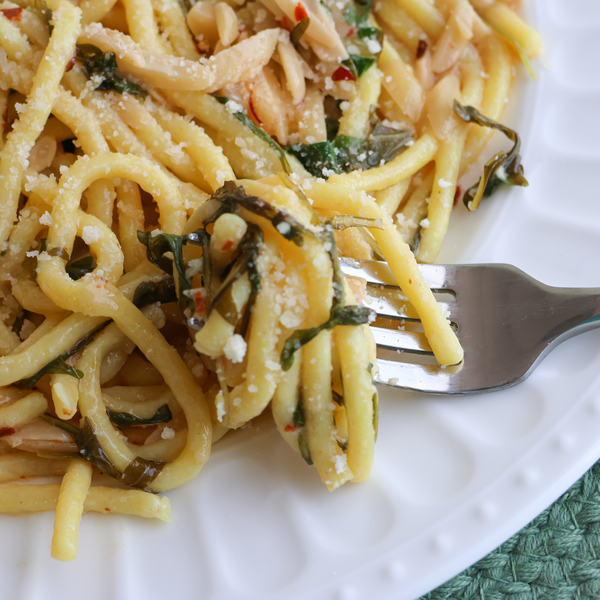 Ingredients
1 Package Cappello's Spaghetti                                   

6 T Brown Butter (You can buy or make brown butter)  

1 Cup Sliced Almonds 

2 Sprigs Rosemary, whole sprigs 

1 Pinch (or more to taste) Red Pepper Flakes        

1 T Lemon Zest  

¼ cup (or more to taste) Lemon Juice, fresh squeezed 

¼ Cup White Wine 

½ t (or more to taste) Fine Sea Salt       

To Taste Freshly Ground Black Pepper

5 oz. Rough-chopped Arugula 

1/8 cup plus more for garnish Grated Parmesan Cheese                                          
Instructions
Bring a pot of water to a boil. The spaghetti cooks very quickly, so start making the rest of the dish while the water begins to boil.

In a stainless steel pan, brown the butter OR if you bought browned butter, melt it.

Once you can spell the nuttiness of the brown butter, add sliced almonds, rosemary, and red pepper flakes.  Sautee over medium-high heat until almonds are toasted and fragrant.

Add lemon juice and white wine to the pan and all them to mostly boil off. If the pan is hot, they will boil immediately.

Add sea salt, black pepper, and arugula to the pan, lower heat to medium-low, and toss with tongs to wilt arugula (about 2 min.)

While arugula is wilting, cook the spaghetti in boiling water and cook according to the directions on the box. Once cooked, use tongs to lift pasta into the frying pan and toss with your sauce. If some pasta water makes it into the pan, that is OK!

Remove Rosemary sprigs.

Add grated parmesan to the pan and toss until it is evenly mixed.

Plate spaghetti and garnish with more cheese, salt, pepper, red pepper flakes, or anything else you wish!

Serve hot and enjoy.
Kids Can Do
Grate the parmesan

Squeeze lemon juice

Add garnishes