Jan 27, 2020
Buffalo Cauliflower Pizza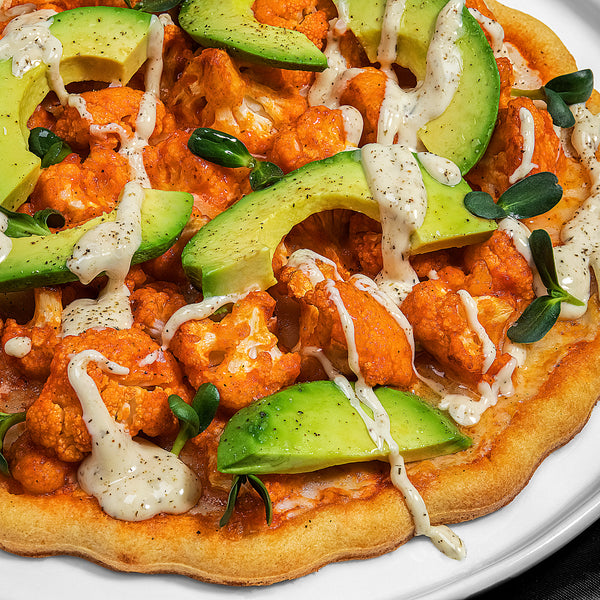 Ingredients
3 cups cauliflower florets
1 tablespoon olive oil
1/4 teaspoon kosher salt
2 tablespoons tapioca flour
1 tablespoon butter
1/3 cup Frank's Red Hot sauce
1 cup shredded mozzarella
1 avocado, sliced
Microgreens (optional)
2 tablespoons Sir Kensington's Ranch Dressing
Instructions
Preheat oven to 425ºF.
Toss cauliflower in olive oil, salt and tapioca flour. Place on a baking sheet and roast for 20-25 minutes.
In a small saucepan, heat buffalo sauce and butter over medium-low and whisk until well combined. Remove from heat, and reserve 3 tablespoons of sauce. Pour the remaining sauce over the roasted cauliflower and toss to combine.
Spread reserved 3 tablespoons of buffalo sauce over the Naked Crust. Top with mozzarella and cauliflower.
Bake for about 13-15 minutes, or until cheese is melted and crust is golden.
Remove pizza from oven and let cool slightly. Top with avocado slices, microgreens and a drizzle of ranch.
Additional Info
Prep Time: 25 minutes
Total Time: 45 minutes