Mar 20, 2021
Butternut Squash Ravioli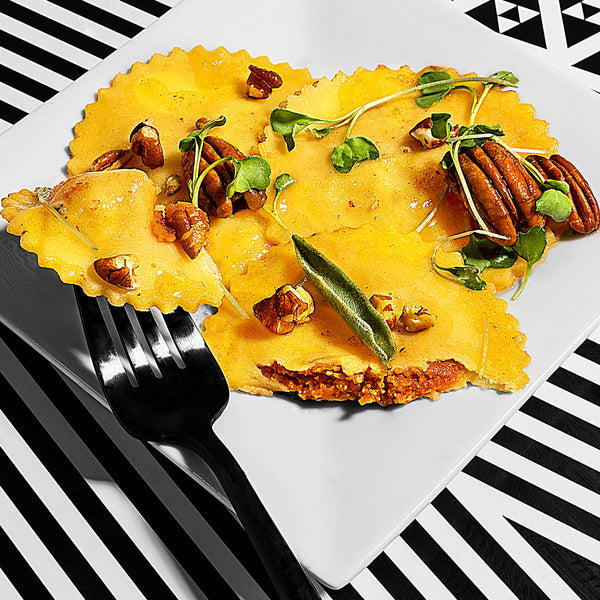 Ingredients
1 package Cappello's Lasagna Sheets, thawed if frozen
1/2 cup canned organic butternut squash
3 tablespoons grated Parmesan cheese 1/8 teaspoon sea salt
1/8 teaspoon freshly ground black pepper 1/8 teaspoon turmeric
1/4 teaspoon dried thyme
1 teaspoon salt
1/4 cup chicken bone broth
1 tablespoon ghee
2 tablespoons chopped pecans
Optional: fresh sage, microgreens
Instructions
In a medium bowl, combine butternut squash, Parmesan, salt, pepper, turmeric, and thyme. Stir well
Cut each lasagna sheet into three equal squares and brush with water to dampen.
Spoon 2 teaspoons of the butternut squash mixture into the center of half of the lasagna sheet squares. Top with a second square and press down gently on edges to seal. Use a 3-inch ravioli stamp to cut and seal ravioli, or alternatively, use a fork to crimp the edges of each ravioli.
Place ravioli into a large saucepan of boiling, salted water, and cook for 2 minutes. Drain and set aside.
Place bone broth and ghee in a small skillet. Bring to a boil. Add pecans then ravioli, tossing to coat. Garnish with fresh sage leaves and microgreens, as desired.