Jan 15, 2020
Cacio e Pepe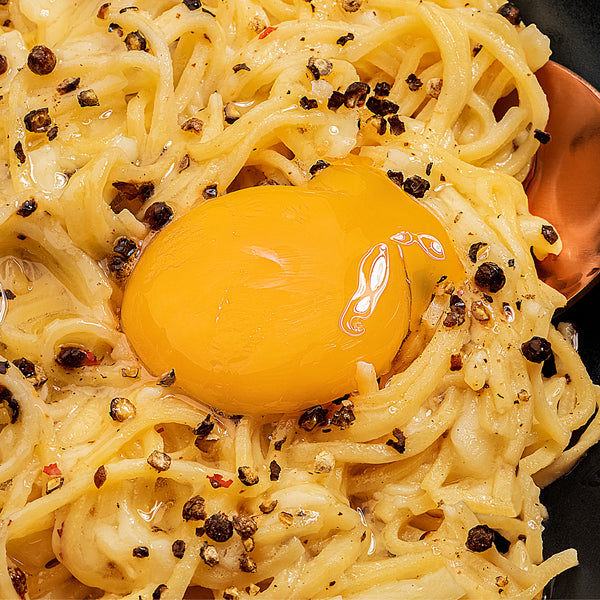 Ingredients
1 ½ teaspoons whole black peppercorns, crushed with a mortar and pestle
1 tablespoon extra-virgin olive oil
1 tablespoon salted butter
2 ounces Pecorino Romano cheese, finely grated
1 fresh egg yolk (optional)
Instructions
Cook pasta according to package directions for al dente. Drain and reserve 1 cup of the pasta water. Rinse spaghetti with lukewarm water and set aside.
In a small skillet over medium heat, heat the olive oil. Add the crushed peppercorns and cook 2 minutes. Remove from heat, then transfer to a large bowl.
Transfer the pasta to the bowl with the peppercorn oil, and add 2 tablespoons of the pasta water (reserve the remaining cooking water). Toss the pasta until coated. Let cool slightly, 1 to 2 minutes.
Add the cheese to the pasta, tossing well and adding a more of the reserved pasta water, a few tablespoons at a time, until the pasta is coated in a thick creamy sauce.
Serve hot topped with a raw egg yolk. Stir into pasta table side, so hot pasta cooks the egg.
Additional Info
Yield: 2 servings
Prep time: 5 minutes
Total time: 25 minutes