Jul 29, 2021
Cheeseburger Lasagna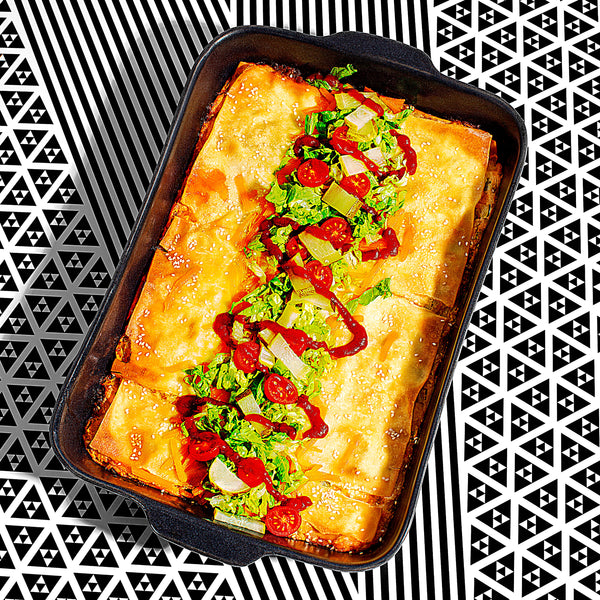 Ingredients
2 tablespoons avocado oil

1/2 yellow onion, diced

1 teaspoon salt

1 tablespoon Worcestershire sauce

1 1/2 pound lean ground beef

2 tablespoons tomato paste

1 can (15-ounces) tomato sauce

2 tablespoons brown sugar

1 container (15-ounces) ricotta cheese

1 egg plus 1 egg white, divided

2 cups shredded cheddar cheese

1/2 cup diced dill pickle

2 tablespoons minced onion

1 cup shredded lettuce, for garnish

dill pickle slices, for garnish

cherry tomatoes, for garnish

ketchup, for garnish 
Instructions
Preheat the oven to 375 F.

In a medium skillet, heat the oil over medium-high heat and add onion, salt and Worcestershire sauce. Cook for 5-7 minutes or until the onion is tender.

Add ground beef and continue to cook for 5 to 7 minutes or until beef is thoroughly cooked, stirring frequently. 

Add tomato paste, tomato sauce and brown sugar; mix well. Simmer for 5 minutes, stirring occasionally.

In a medium bowl, mix together the ricotta cheese, egg, shredded cheddar, diced pickle and minced onion until well combined. 

To assemble, add a layer of lasagna noodles to the bottom of the well-greased 9x13 inch dish. Top that with 1/2 of the ground beef mixture then another layer of noodles and 1/2 of the ricotta mixture. 

Repeat the process again using another layer of noodles, then beef, noodles, cheese, finishing with a layer of the noodles on top. 

Whisk the remaining egg white and use it to brush the top layer of noodles. 

Bake for 30-40 minutes or until bubbling around the edges. 

Remove and allow to cool then top with shredded lettuce pickles, cherry tomatoes and ketchup. 
Kids Can Do
Mix the sauce into beef mixture

Help with layering the ingredients

Add the toppings in a fun design