Apr 24, 2018
Chicken Pot Pie
This recipe gives pasta sheets a new twist and can be completely paleo if other veggies are substituted for peas and corn!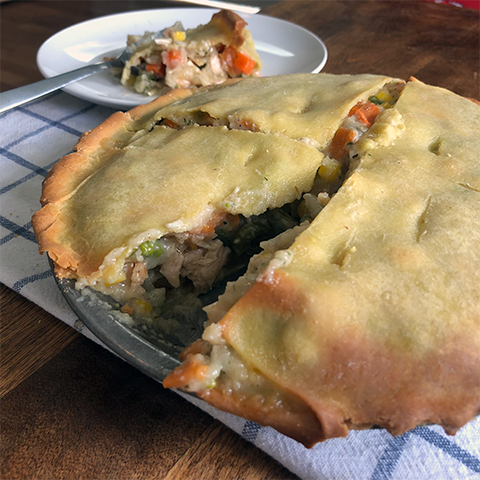 Ingredients
1 package Cappello's Lasagna Sheets
8 ounces (2 cups) cubed cooked chicken
½ cup chopped onion
1/4 cup coconut oil
One 10 ounce bag mixed veggies – I used peas, carrots, green beans and corn
2/3 cup diced sweet potato
½ cup cassava flour (or use rice flour, almond flour, or your favorite flour!)
1/2 teaspoon salt
1/4 teaspoon pepper
½ teaspoon parsley
½ teaspoon thyme
1 1/2 cups chicken broth
3/4 cups coconut milk
Instructions
Preheat oven to 350 °F
Place sweet potatoes in a large saucepan; add water to cover. Bring to a boil. Reduce heat; cook, covered, 8-10 minutes or until crisp-tender; drain.
While sweet potatoes are cooking, heat 2 tbs coconut oil in a large skillet over medium-high heat. Add ½ cup chopped onion. Cook and stir until tender.
Add in the rest of the coconut oil to the large skillet, as well as your flour and seasonings; stirring until blended. Gradually stir in broth and coconut milk. Bring to a boil, stirring constantly; cook and stir 2 minutes or until thickened. Stir in chicken, vegetable medley and sweet potato mixture; remove from heat. *If mixture is too thick, dilute with additional broth/coconut milk.
Line a 9 inch pie pan with Cappello's Lasagna Sheets -rinse them in water so they become a bit soggy, they are more pliable and stick together better; trim even with rims. Add chicken mixture.
Place remaining sheets over filling. Trim, seal and flute edges. Cut slits in tops.
Pop your yummy pie in the oven and bake for 15-20 minutes, then brush the top of the pie with light tasting olive oil mixed with water 1:1 parts to keep the pie crust soft, then put back in oven for another 15 minutes.
To get a nice golden color on top, move your pie to the top rack and bake for another 5-10 minutes. Keep a close eye because these babies can burn real quick and mess up the entire flavor of your pot pie.
Additional Info
Serves approx. 4
Original recipe by Chelsea from @paleo.pals