Jul 08, 2021
Chicken Spinach Artichoke "Dip" Pasta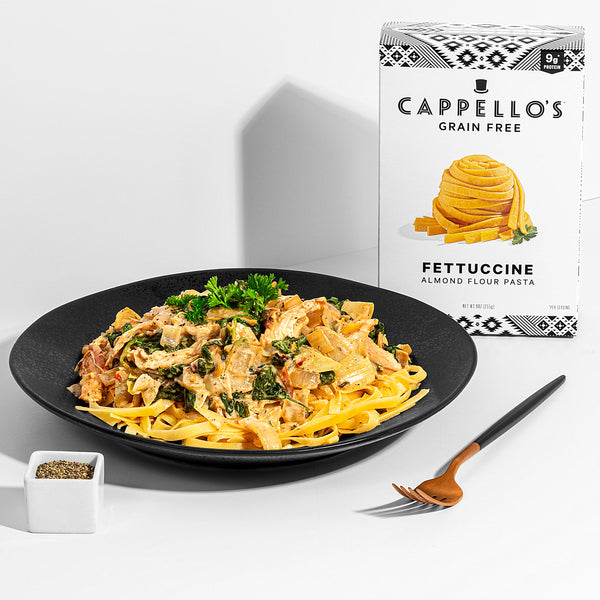 Ingredients
1 boneless skinless chicken breast, cooked & shredded, recipe below

1 tablespoon olive oil 

1 cup yellow onion, diced 

6 ounces fresh baby spinach, roughly chopped 

1 cup artichoke hearts 

1 tablespoon garlic, minced 

1/2 cup unsweetened canned coconut cream 

1/4 cup paleo-friendly mayonnaise 

1 tablespoon lemon juice

1 teaspoon lemon zest 

1/2 teaspoon kosher salt

1/4 teaspoon ground black pepper

1/4 teaspoon red pepper flakes 

2 tablespoons fresh parsley, chopped 
Instructions
In a large saucepan, heat olive oil over medium heat. Add the onion and cook until translucent, 5-7 minutes. 

Add spinach, artichoke hearts, and garlic. Cook, stirring constantly, until spinach has wilted, 3-4 minutes. 

Add coconut cream, mayonnaise, lemon juice, lemon zest, salt, black pepper and red pepper flakes. Cook until sauce thickens slightly, 2-3 minutes. Stir in the chicken and remove from heat. 

Add a package of fettuccine to 4 quarts of boiling water. Stir to separate the strands. Pasta will cook in approximately 90 seconds. 

Drain the fettuccine and add it to the sauce. Stir until noodles are coated in sauce. Top with fresh parsley and serve. 

Chicken Recipe:

Preheat your oven to 400 F and line a large baking sheet with parchment paper or aluminum foil.

Place chicken on the sheet, drizzle with olive or avocado oil, and sprinkle with sea salt and pepper. Place in the oven and bake about 20-25 minutes until cooked through. Remove from oven and set aside.
Kids Can Do
Measure out ingredients

Add ingredients to the pan

Help toss the noodles and sauce