Apr 17, 2021
Chocolate Chip Cinnamon Roll Cookies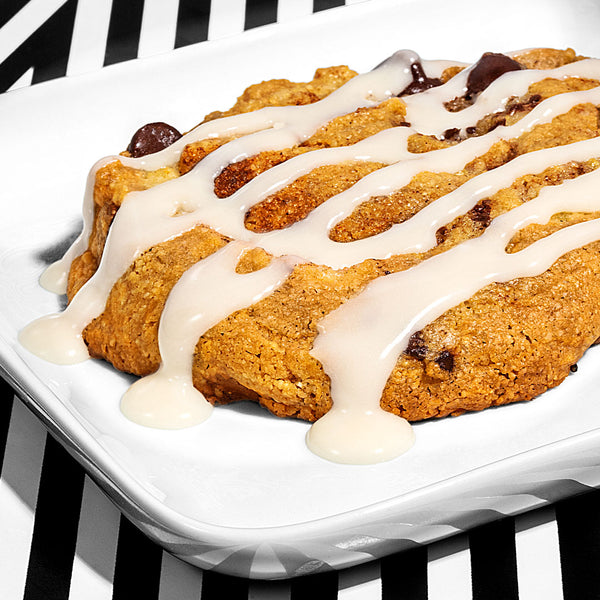 Recipe
1/4 cup butter, vegan or regular, at room temperature
1/4 cup + 2 tablespoons white sugar
1 1/2 teaspoons vanilla extract
1 egg or 1 flax egg
2/3 cup almond flour
1/4 teaspoon baking powder
1/4 teaspoon salt
1 tablespoon cinnamon
1 cup powdered sugar
3 tablespoons milk
Instructions
In a medium bowl using a hand or stand mixer with the paddle attachment, beat the butter and 1/4 cup of sugar for 1 minute. 
Add in the egg and 1 tsp of vanilla, beat for another minute then scrape down the sides and add in the flour, baking powder and salt.
Mix until combined then place the dough into the refrigerator for 20 minutes. 
While the dough chills, preheat the oven to 350 F and lay out a piece of parchment paper. 
Place the thawed cookie dough onto the parchment then place another piece on top and roll it out into an 8x10 inch square.
Take the cinnamon roll dough from the refrigerator and place it on top of the parchment that's resting on the chocolate chip dough and roll it out to match the size.
Flip the parchment to layer the doughs on top of each other. Sprinkle the remaining sugar and cinnamon onto the cinnamon roll dough then roll the 2 doughs into tight a log. 
Slice the dough log into 3/4 inch rounds and place them on a greased baking pan.
Bake for 10-11 minutes. 
Whisk the 1/2 tsp of vanilla, powdered sugar and milk to create the icing and drizzle over the cookies after they have cooled. 
Kids Can Do
Measure ingredients
Roll out the dough
Whisk and drizzle the icing