Nov 02, 2020
Chocolate Chip Cookie Dough Cranberry Curd Tart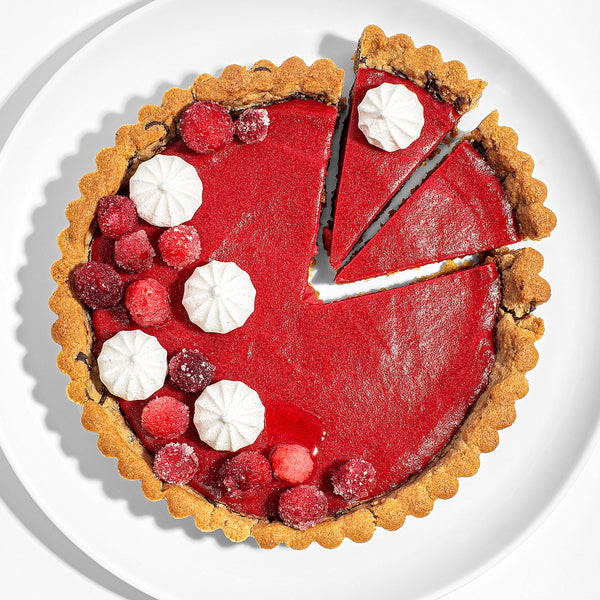 Instructions
10 ounces fresh or frozen cranberries
Juice of 1/2 orange
zest of 1 orange
1/2 cup granulated sugar
1/4 cup unsalted butter
1 large egg
1 large egg yolk
1/2 vanilla bean, beans scraped
1/4 teaspoon fine sea salt
2/3 cup granulated sugar, divided
Instructions
Preheat oven to 350°F.
Evenly press Cappello's Chocolate Chip Cookie dough into an 8-inch tart mold with a removable base.
Place the tart pan on a baking sheet and bake until the crust is golden brown, 14-16 minutes (note, you may have to use the back of a wooden spoon to press down the cookie dough halfway through baking to prevent it from puffing up too much). Remove from oven and let cool. Leave the oven on.
While the crust is cooling, prepare the cranberry curd. In a medium saucepan add the cranberries, orange juice, and zest. Place on a stove set to medium-high heat and cook until the cranberries break down and mixture has reduced slightly, 10-15 minutes. Strain through a fine mesh sieve and discard the cranberry skins.
Return the strained cranberry mixture to the saucepan and add the sugar, butter, egg, egg yolk, vanilla pod and seeds, and salt. Cook over medium-low heat, whisking constantly until the curd thickens and registers 170°F on a thermometer, 8-10 minutes.
Remove pan from heat. Discard vanilla pod and strain curd through a fine mesh sieve into a bowl. Pour the curd into the baked cookie crust.
Bake tart until the curd has set (it will still jiggle slightly), 8-10 minutes.
Let tart cool at room temperature for about 1 hour, then transfer to the refrigerator to chill completely before topping with meringues and candied cranberries (if using). Slice and serve.
Kids Can Do
Press the dough into the tart pan
Help with candied cranberries
Decorate the tart