Aug 24, 2021
Chocolate Chip Cookie Dough Ice Cream Cake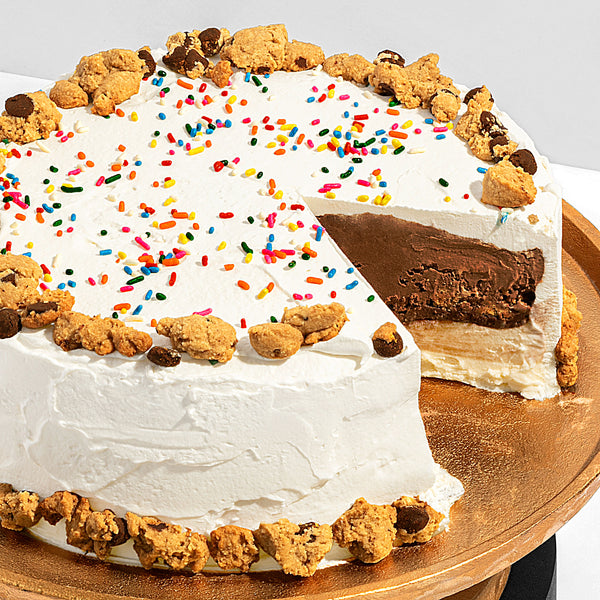 Ingredients
12 ounces Cappello's Chocolate Chip Cookie Dough, crumbled into small pieces 

1.5 quarts vanilla ice cream 

1.5 quarts chocolate ice cream 

For the Chocolate Fudge:

6 ounces semi-sweet chocolate, chopped 

3 tablespoons honey 

1 teaspoon vanilla extract

¼ teaspoon kosher salt 

½ cup heavy whipping cream, room temperature 

For the Whipped Cream:

2 cups heavy whipping cream, cold 

⅓ cup powdered sugar 

2 teaspoons vanilla extract 

2 tablespoons rainbow sprinkles, for finishing 
Instructions
Preheat oven to 350 F. Line a 9-inch springform cake pan with saran wrap. Set aside. 

Remove vanilla ice cream from the freezer. Let sit for 15 minutes. 

While ice cream is sitting, bake the cookie dough: 

Place cookie dough crumbles on a baking sheet lined with parchment paper. Place in the oven and bake until edges are golden, 8-10 minutes. Remove from oven and let cool. 

Evenly spread vanilla ice cream along the base of the cake pan. Place in the freezer for 30 minutes.

While ice cream is freezing, make the fudge: 

To a medium heat-proof mixing bowl, add chocolate, honey, vanilla, and salt. Set aside. 

To a 2-quart saucepan over medium heat, add whipping cream. Bring just to a simmer then pour over the chocolate. Let sit, undisturbed for 3 minutes. Then whisk until smooth and glossy. Let sit until fudge reaches room temperature, then pour it over the vanilla ice cream layer. 

Add ¾ of the cookie crumbles on top of the fudge layer. Place in the freezer until firm, 1-2 hours. 

Let the chocolate ice cream sit out for 15 minutes. Evenly spread over the fudge layer and place back into the freezer until firm, about 1 hour. 

When ready to serve, make the whipped cream: 

To a stand mixer fitted with the whisk attachment, add all ingredients. Whip on high until stiff peaks form then use a spatula to frost the cake. Decorate the top with the remaining baked cookie dough pieces. 
Kids Can Do
Measure out ingredients

Help assemble the cake