Dec 17, 2019
Chocolate Hazelnut Pizza with Toasted Marshmallows and Orange-Glazed Bananas (Dairy-Free)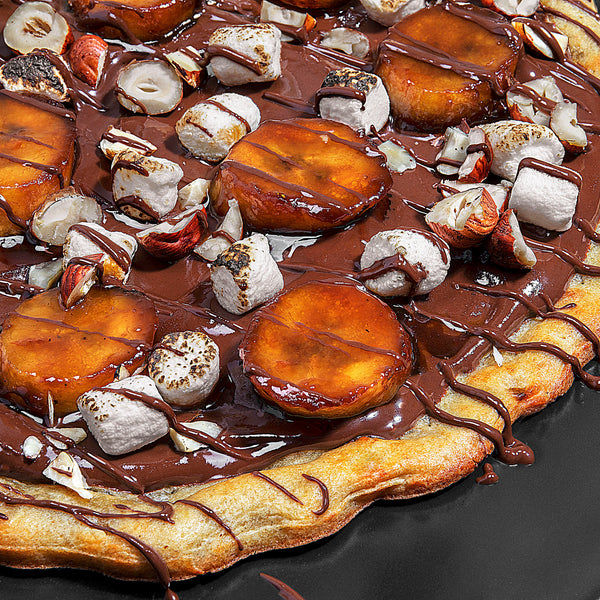 Ingredients
¼ cup dairy-free chocolate hazelnut spread, divided
1 firm banana, sliced into rounds
2 tablespoons coconut oil
1/3 cup coconut sugar
1/2 teaspoon grated fresh orange rind
1/4 teaspoon cinnamon
1/3 cup fresh orange juice
2 tablespoons vegan mini marshmallows
1 tablespoon chopped hazelnuts
Instructions
Preheat oven to 425ºF.
Bake Naked Crust for 11-15 minutes, or until golden brown. Remove from oven and set aside.
Heat coconut oil in a large nonstick skillet over medium heat. Add coconut sugar, orange rind, cinnamon, and orange juice. Cook until mixture is syrupy and bubbly, stirring often. Add bananas, and cook 5 minutes or until bananas are softened, flipping once halfway through.
Spread 3 tablespoons chocolate hazelnut spread over the cooked pizza crust. Top with marshmallows, hazelnuts, and orange-glazed bananas.
Preheat broiler.
Broil 2-3 minutes, or until marshmallows are golden.
Remove from oven, and drizzle with remaining 1 tablespoon chocolate hazelnut spread.
Additional Info
Prep time: 5 minutes
Total time: 35 minutes