Apr 15, 2021
Cookie Dough Blondies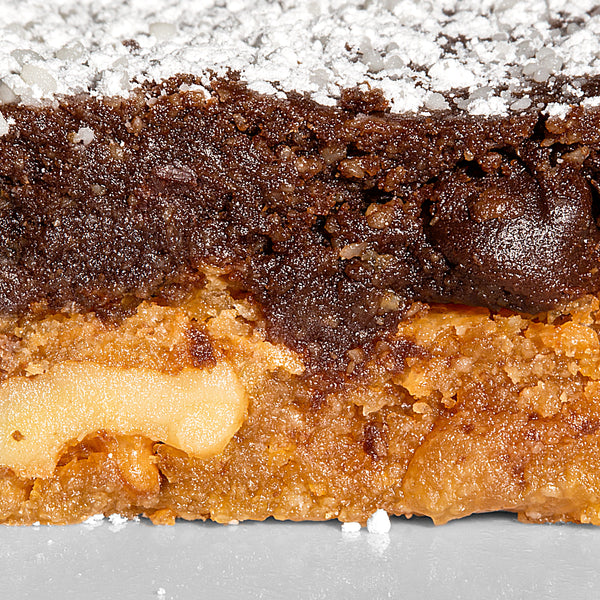 Ingredients
1/2 cup unsalted butter melted

1 cup light brown sugar, packed

1/4 cup granulated sugar 

1 large egg + 1 large egg yolk, room temperature

1 teaspoon vanilla extract

1 1/4 cups grain-free baking flour mix

1/2 teaspoon sea salt

1/4 teaspoon baking powder

1/2 cup walnuts, roughly chopped 

powdered sugar, for topping 
Instructions
Preheat oven to 350 F. Line an 8-in x 8-in baking pan with parchment paper. Coat with cooking spray and set aside. 

In a large mixing bowl add the melted butter, brown sugar, granulated sugar, eggs, and vanilla. Whisk to combine. 

Add flour, salt and baking powder to the wet ingredients. Whisk to combine. 

Fold in walnuts. 

Pour batter into prepared pan and transfer to oven.

Bake for 25-30 minutes, or until a toothpick inserted in the center comes out mostly clean with a few fudgy crumbs.

Remove from oven and let cool completely. 

Sandwich the Double Chocolate Cookie Dough between 2 pieces of parchment paper. Roll out to an 8x8-inch square. Place dough on top of the cooled blondies. Press firmly to adhere dough. 

Cut into 9 squares, dust with powdered sugar and serve. 
Kids Can Do
Whisk ingredients
Roll out the dough
Sprinkle the powdered sugar