May 11, 2020
Cookie Dough Layer Cake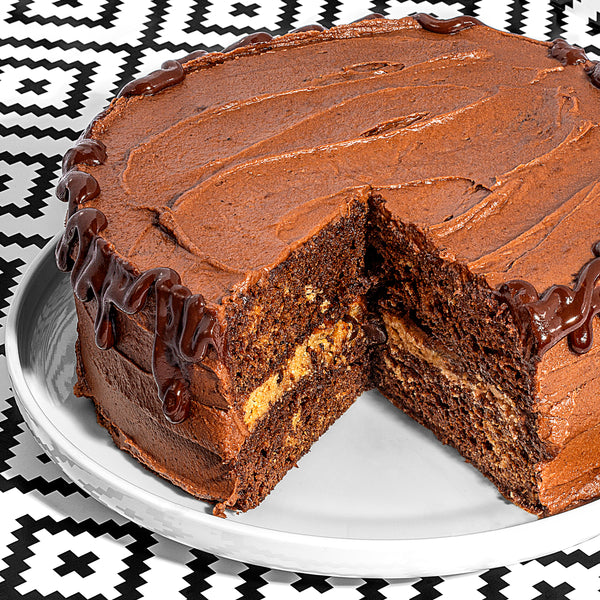 Ingredients
3/4 cup unsweetened cocoa powder
1 cup almond milk
2 1/2 cups almond flour
2 cups sugar
1 1/2 teaspoons baking powder
1 1/2 teaspoon baking soda
1 teaspoon salt
3 large eggs, at room temperature
1 cup unsweetened applesauce
2 teaspoons vanilla extract
1 cup (2 sticks) butter (or vegan butter), at room temp
2 cups powdered sugar
1/4 cup cocoa powder
1-2 tablespoons almond milk (plus more depending on desired consistency)
Instructions
Thaw the cookie dough.
Preheat the oven to 350 F. Coat two 9-inch round cake pans with cooking spray and line the bottoms with parchment paper.
In a small saucepan over medium heat, bring the almond milk to a boil and add in the cocoa powder, mixing until smooth; set aside.
In a stand mixer combine the flour, sugar, baking powder, baking soda and salt until combined. Add the eggs, applesauce and vanilla and mix on medium speed until smooth, about 1 minute.
Reduce the mixer speed to low; add in the cocoa mixture in a steady stream until just combined.
Divide the batter evenly among the two pans and bake for about 30-40 minutes or until a toothpick comes out clean when inserted into the middle of each cake.
Allow to cool for a few minutes then turn the pans upside to release the cake and allow to cool on a cooling rack until no longer hot.
Once the cakes have been removed from the pan, press the cookie dough into an even layer in the bottom of the pan.
Place in the freezer to chill for 10-15 minutes.
While the cookie dough chills, make the frosting by adding the butter, powdered sugar and cocoa powder to a stand mixer. Add in the almond milk 1 tbsp at a time until the desired consistency is reached.
Remove the cookie dough from the freezer and turn the pan upside, gently hitting the bottom of the pan until it comes loose.
Assemble the cake by placing one cake round on a plate. platter, etc and adding a thin layer of icing on top. Place the cookie dough onto the icing then apply another thin layer on top of the icing. Place the remaining cake layer on top and use the remaining frosting to cover the entire cake.
Kids Can Do
Mix the cake batter
Press the cookie dough out
Frost the cake