Jul 23, 2021
Cookie Dough Peaches and Cream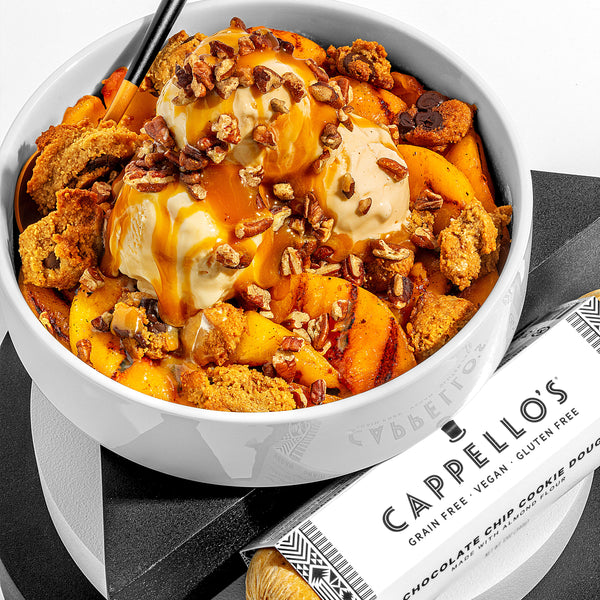 Ingredients
16 ounces peaches, peeled & sliced
3 tablespoons unsalted butter, melted
1 teaspoon pure vanilla extract
¼ teaspoon ground cinnamon
1 pint vegan vanilla frozen dessert or vanilla ice-cream
Caramel sauce and toasted pecan pieces
Instructions
Preheat oven to 350 F. Place cookie dough crumbles on a baking sheet lined with parchment paper. Place in oven and bake until edges have slightly browned, 8-10 minutes. Remove from oven and set aside to cool.
Grill the peaches: Preheat the grill to medium. To a medium mixing bowl add sliced peaches, melted butter, vanilla extract, and cinnamon. Toss to coat and set aside.
Place peach slices on the grill and cook until peaches are soft, using tongs to flip pieces as needed, 7-9 minutes.
Place grilled peaches in bowls and top with cookie dough crumbles, ice cream, caramel sauce and toasted pecan pieces. Serve immediately.
Kids Can Do
Fill the peaches with cookie dough and top with ice cream!