Dec 18, 2021
Cookie Dough Pie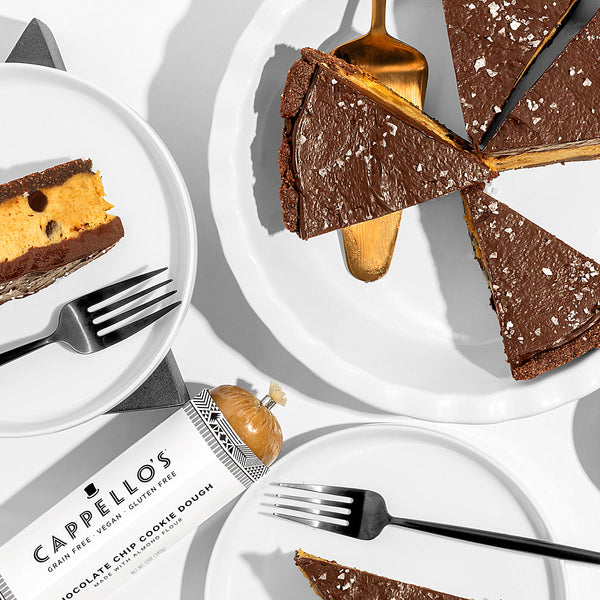 Ingredients
For the peanut butter filling:

6 ounces cream cheese, room temperature

¾ cup creamy peanut butter

½ cup powdered sugar

1 teaspoon pure vanilla extract

¾ cup heavy whipping cream

For the ganache:

6 ounces bittersweet chocolate, chopped

½ cup heavy whipping cream

2 tablespoons unsalted butter, cut into 1-inch cubes

Flake salt, for finishing
Instructions
Preheat oven to 350 F.

Evenly press Double Chocolate Chip Cookie Dough into a 9-inch pie tin.

Place the pie tin on a baking sheet and bake until the crust is golden brown, 15-20 minutes (note, you may have to use the back of a wooden spoon to press down the cookie dough halfway through baking to prevent it from puffing up too much). Remove from oven and let cool.

Make the peanut butter filling: To a medium mixing bowl fitted with the whisk attachment, add the cream cheese, peanut butter, powdered sugar and vanilla. Turn to medium-high speed and mix until smooth and creamy. Reduce speed to low and slowly stream in the whipping cream. Once incorporated, increase to high and whip until light, about 5 minutes.

Use a spatula to fold crumbled Chocolate Chip Cookie Dough pieces into the peanut butter filling.

Pour filling into the cooled crust and spread evenly. Place in the refrigerator while you make the ganache.

Make the ganache: To a medium heatproof mixing bowl, add the chocolate.

To a 2-quart saucepan over medium heat, add the cream. Bring just to a simmer, then immediately pour over the chocolate. Let sit, undisturbed for 3 minutes.

Whisk to combine, then add butter pieces one by one until the ganache is smooth and shiny.

Pour ganache over peanut butter filling and spread evenly. Place pie in the refrigerator, uncovered, until set, at least 1 hour.

Sprinkle top with flake salt, slice, and serve.
Kids Can Do
Help press the cookie dough into the pie tin.

Add the peanut butter filling to the cooled crust.

Top the pie with the flake salt.