Sep 12, 2021
Creamy Ham and Pea Fettuccine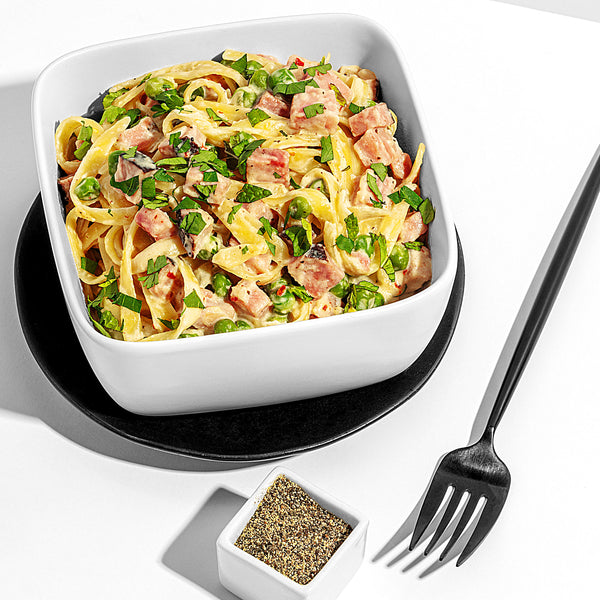 Ingredients
2 tablespoons unsalted butter

¼ cup yellow onion, diced 

2 teaspoons (2 cloves) garlic, minced 

1 tablespoon almond flour

1 cup chopped ham 

½ cup frozen peas, thawed 

½ cup half & half 

¼ cup grated parmesan 

½ teaspoon kosher salt

¼ teaspoon ground black pepper 

¼ teaspoon red pepper flakes 

1 tablespoon parsley, chopped 

1 tablespoon mint, chopped 
Instructions
In a 12-inch nonstick skillet placed on a stove set to medium heat, melt the butter. Add onion and garlic. Cook, stirring constantly until onions are translucent, 3-5 minutes. 

Add almond flour to the pan. Stir until incorporated. 

Add ham, peas, half & half, parmesan, salt, black pepper, and red pepper flakes to the pan. Cook, stirring constantly until sauce is warmed and slightly thickened, 5-6 minutes. 

Add fettuccine to a 4-quart pot of boiling water. Stir to separate the strands. Pasta will cook in approximately 90 seconds. 

Drain the fettuccine and add it to the sauce. Stir until noodles are coated in sauce. Top with fresh parsley and mint and serve.
Kids Can Do
Measure out ingredients

Add ingredients to the pan

Help toss the noddles and sauce