Aug 06, 2021
Creamy Summer Spinach Ravioli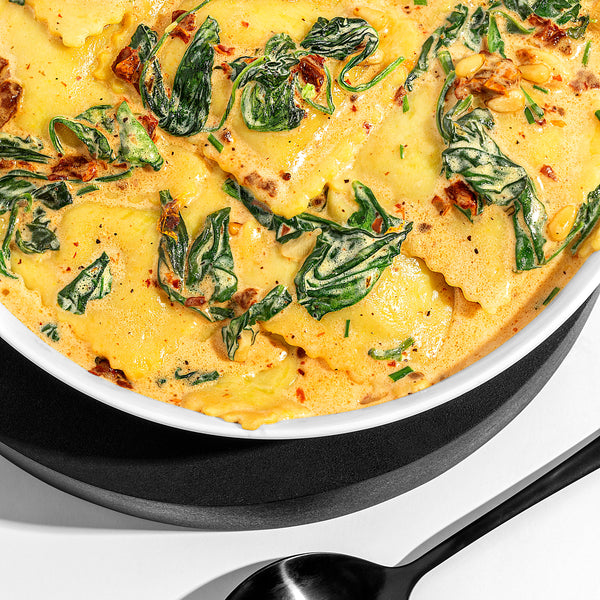 Ingredients
2 tablespoons olive oil 

2 cloves garlic, minced 

½ teaspoon kosher salt

½ teaspoon ground black pepper 

¼ teaspoon red pepper flakes 

3 cups fresh spinach, packed 

4 ounces mascarpone cheese

¼ cup sun-dried tomatoes in oil, drained & chopped 

1 ounce (¼ cup) parmesan cheese, grated 

1 tablespoon chives, snipped 

2 tablespoons pine nuts, toasted 
Instructions
To a 12-inch nonstick skillet over medium heat, warm the oil. Add garlic, salt, black pepper, and red pepper flakes to the pan. Cook until fragrant, 1-2 minutes. 

Add spinach, mascarpone cheese, and sun-dried tomatoes to the skillet. Cook until spinach starts to wilt slightly and cheese melts, 4-5 minutes. Remove from heat.

Cook the ravioli: To a large pot, bring 3 quarts of water to a rolling boil. Add frozen ravioli and cook for 7-8 minutes. Drain water and add the cooked ravioli to the skillet. Toss to combine and transfer to plates or bowls. Top with parmesan, chives and pine nuts and serve. 
Kids Can Do
Top the ravioli with chives and pine nuts.