Dec 23, 2020
DAIRY-FREE KABOCHA SQUASH, APPLE, CARAMELIZED SHALLOT AND HAZELNUT PIZZA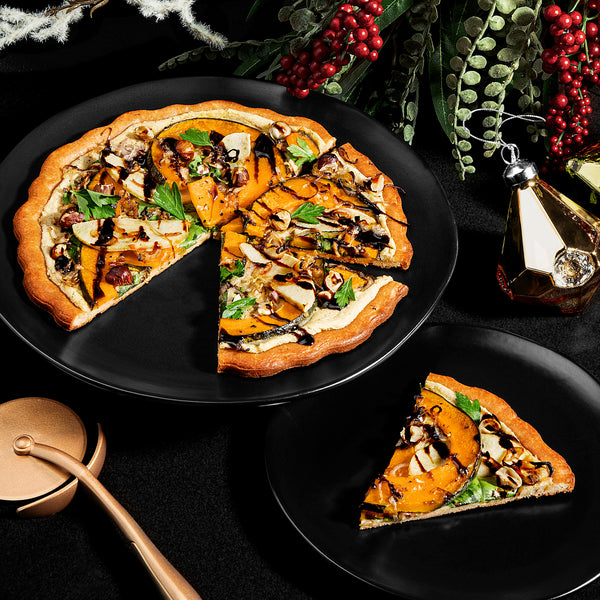 Ingredients
1 Cappello's Naked Crust
Garlic Cannellini Purée:
1 (15-ounce) can cannellini beans, rinsed and drained
¼ cup olive oil
1 tablespoon lemon juice
1 clove garlic
2 teaspoons chopped fresh rosemary
1 teaspoon fresh thyme
1 teaspoon sea salt
½ teaspoon freshly ground black pepper
1 tablespoon water
Toppings:
3 tablespoons olive oil, divided
2 shallots, thinly sliced
8 ounces kabocha squash (sub butternut or delicata squash), cut into 1/2-inch slices
Sea salt
Freshly ground black pepper
1/3 cup spinach
1/2 small apple, peeled and thinly sliced
2 tablespoons chopped hazelnuts
Optional: Fig-Balsamic Glaze, fresh parsley
Instructions
Preheat the oven to 425ºF. Make the garlic cannellini purée by pulsing all ingredients in a food processor. Set aside.
In a large skillet, heat 1 tablespoon of the olive oil over medium-low heat and sauté shallots until soft and caramelized, about 15 minutes.
In the meantime, toss remaining 2 tablespoons oil with squash and season with salt and pepper. Place on a large, rimmed baking sheet and roast for 20 minutes, turning once halfway through. Remove from the oven and set aside.
To make the pizza, spread a layer of the garlic white bean purée evenly over the Naked Crust (you will use approximately half). Arrange the spinach, caramelized shallot, roasted squash, apple slices and hazelnuts over the purée. Season with salt and pepper.
Bake at 425ºF for 14 to 16 minutes, or until the crust is golden brown. Let cool, slice and serve with a drizzle of balsamic glaze and a sprinkle of fresh parsley, as desired.
Kids Can Do
Pulse the purée

Spread puree on crust

Arrange toppings on crust