Apr 26, 2018
Figgy Piggy Pizza
This pizza is everything – sweet, salty, creamy, and savory. It is perfect for breakfast, brunch, or dinner. It is also a great appetizer for entertaining guest.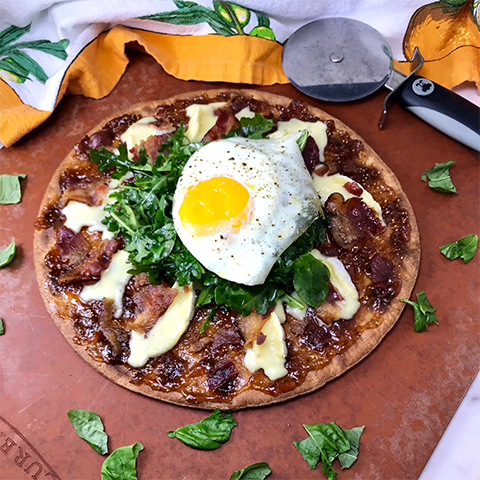 Ingredients
1 Cappello's Naked Pizza Crust
¼ cup fig spread
10 slices of premium French brie
3-4 slices of crispy bacon, chopped
1 cup of organic arugula
½ tablespoon of extra virgin olive oil
1 teaspoon lemon juice
¼ teaspoon sea salt
1/8 teaspoon cracker black pepper
¼ teaspoon Italian seasoning
1 organic egg, large
½ teaspoon ghee
Instructions
Preheat oven to 450 F. Place naked crust on a cookie sheet or pizza stone, and

 bake for 5 minutes.
Remove crust from the oven and flip so the crispy side is on top. Lower oven temp to 400 F.
Evenly distribute fig spread over crust.
Top with brie slices and chopped bacon.
Return to oven, baking for another minutes.
While the pizza bakes, toss the arugula in the EVOO, lemon juice, and seasoning (salt, pepper, and Italian seasoning)
Fry an egg in ½ tsp ghee – sunny side up.
Remove pizza from the oven, pile high with arugula and top with fried egg.
Slice and enjoy!
Additional Info
Prep time: 15 mins
Cook time: 10-12 mins
Total time: 25-27 mins
Serves: 2-4
Original recipe by Shannon of Vivacity Buzz