Dec 03, 2019
Flank Steak + Blue Cheese Pizza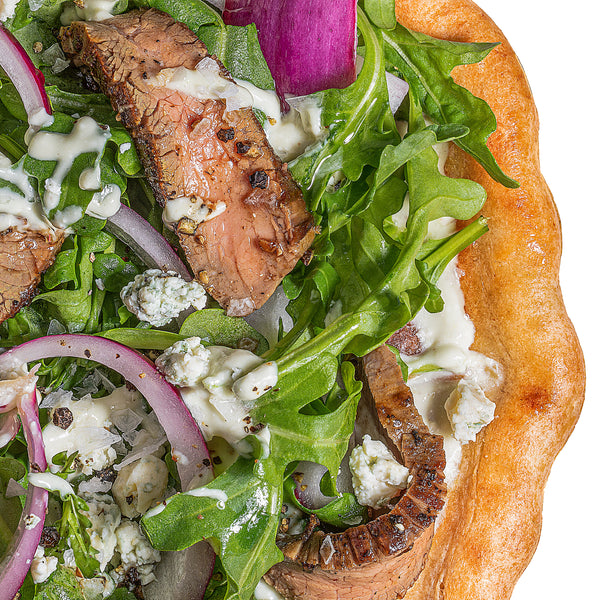 Ingredients
¼ red onion, sliced
½ cup water
1 tablespoon white wine vinegar
4 ounces beef flank steak
½ teaspoon kosher salt
¼ teaspoon freshly ground black pepper
2 tablespoons extra-virgin olive oil, divided
1 cup arugula
1 tablespoon fresh lemon juice
Pinch flaky sea salt
Blue Cheese Sauce:
2 ounces crumbled blue cheese
1 ½ tablespoons extra-virgin olive oil
1 tablespoon white wine vinegar
1 tablespoon avocado oil mayonnaise
1 tablespoon water
1 ½ teaspoon Dijon mustard
Instructions
Preheat oven to 425ºF.
In a small bowl, combine red onion with water and vinegar. Set aside.
Remove steak from the refrigerator and bring to room temperature for 30 minutes.
Meanwhile, make the blue cheese sauce by combining all ingredients in a blender or food processor. Blend until smooth.
Heat a 12-inch cast iron skillet over medium-high heat.
Season steak with salt and pepper, and rub it all over with 1 tablespoon of olive oil.
Cook steak 9-10 minutes, flipping halfway through. For medium-rare steak, meat thermometer should read 135ºF.
Transfer steak to a cutting board, and let rest for 10 minutes.
Meanwhile, drizzle the remaining tablespoon of olive oil over the Naked Crust.
Bake 11-15 minutes, or until crust is golden brown.
Drain onion mixture, and add arugula, and lemon juice to the bowl with the onions. Sprinkle with a pinch of flaky sea salt and toss to combine.
Cut the steak against the grain into very thin slices.
Spread 3 tablespoons of the blue cheese sauce over the cooked pizza crust.
Sprinkle onion-arugula mixture over the sauce, and top with steak slices. Drizzle with the remaining blue cheese sauce as desired (you may have some left over).
Additional Info
Prep time: 10 minutes
Total time: 1 hour 15 minutes