Aug 28, 2023
Gigi's Viral Penne With Spicy Vodka Sauce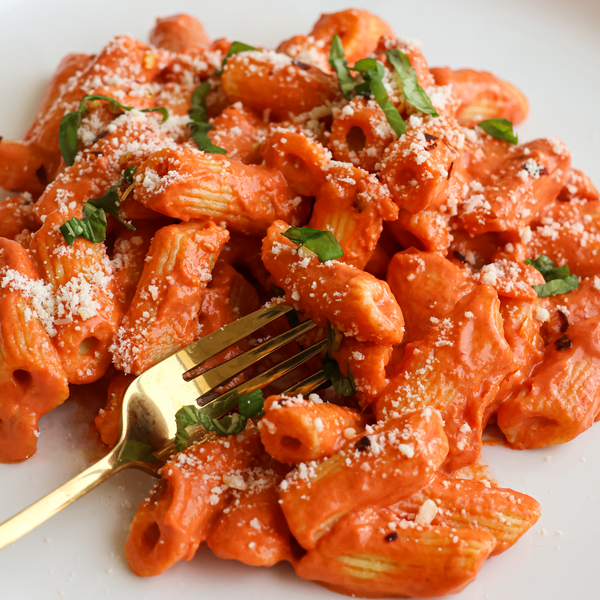 INGREDIENTS
8 oz Cappello's Penne

2 tablespoon olive oil 

¼ red onion small diced (or 3 shallots, minced)

3 cloves of garlic minced 

¼ cup tomato paste 

½ cup heavy cream you may replace it with half-and-half to cut down on the fat

1 tablespoon vodka YOU CAN SKIP IT

Fresh basil leaves to taste

1 teaspoon red pepper flakes or more for a spicier pasta

1 tablespoon butter you can omit it to cut down on the fat

½ cup freshly grated Parmesan cheese 
INSTRUCTIONS
Cook the pasta: Make sure to follow the directions in the package. When the pasta is done (al dente), save ½ cup of the pasta water before draining instead of ¼ cup in the original recipe. More of the starchy pasta water will make the sauce saucier.  Set aside!

Make the sauce: Meanwhile, heat a large saucepan over medium heat, add the olive oil, and cook the onion (or shallots) until soft. Then add the garlic and cook for about 1 minute. Stir in the tomato paste and cook until it appears "darker in color and a bit caramelized", says Gigi Hadid.

Add in the heavy cream and then the vodka (optional). Cook until vodka has evaporated (about 2 minutes). NOTE: For extra flavor, you may add a few small leaves of basil to the sauce at this point!

Add in salt and pepper to taste, and also the red pepper flakes. Keep stirring until combined and the sauce is mostly creamy and thickened.

Right before adding the pasta, add in the butter. Stir over low heat until the butter has melted.

Add the cooked pasta – and the pasta water – to the sauce.

Stir in the parmesan cheese and adjust the salt and pepper if needed. Make sure the pasta is fully coated with the sauce.

Serve this spicy vodka pasta topped with a sprinkling of parmesan cheese and basil to garnish. Enjoy!
KIDS CAN DO
Stir the sauce
Shave parmesan cheese
Garnish with parmesan and basil