Nov 21, 2020
Green Bean Casserole Pizza with Crispy Onions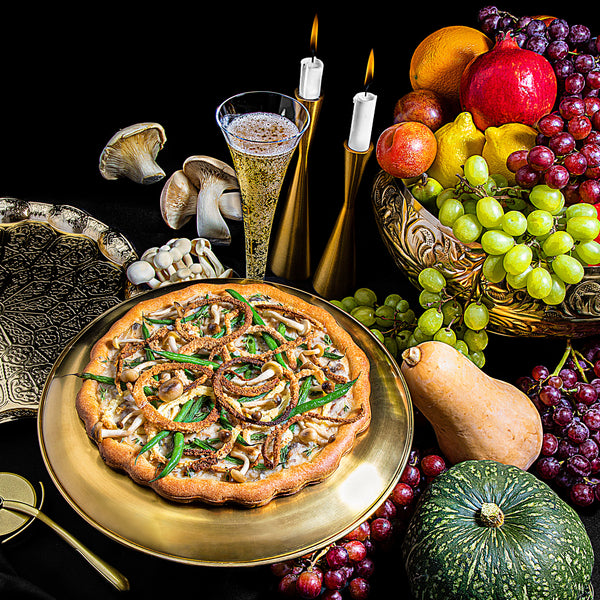 Ingredients:
1/2 small yellow onion, thinly sliced
3/4 cup unsweetened almond milk
⅓ cup almond flour or paleo flour blend
Avocado oil cooking spray
¼ teaspoon truffle salt (or Kosher salt)
¼ teaspoon freshly ground pepper
2/3 cup cashews, soaked in water overnight
2/3 cup water
1 tablespoon olive oil
10 ounces mixed mushrooms (cremini, shitake, maitake), sliced
3 cloves of garlic, minced
1 small shallot, minced
1 teaspoon fresh rosemary, chopped
1 teaspoon fresh thyme, chopped
1/4 teaspoon salt
1/8 teaspoon black pepper
1/8 teaspoon nutmeg
1/2 cup dry white wine
1 teaspoon Dijon mustard
4 ounces haricots verts (about 1/2 cup)
Instructions:
To make crispy onions: Preheat the oven to 425º F. Combine onions and almond milk in a medium bowl, and let stand for 15 minutes. Place flour in a shallow dish. Drain onions and dip in the flour to coat . Transfer to a large rimmed baking sheet lined with aluminum foil and coated with cooking spray. Spray onions with avocado oil spray. Bake for 25 to 28 minutes, or until golden brown and crispy. Remove from the oven and immediately sprinkle with salt and pepper.
Combine cashews and water in a high-speed blender, and blend until smooth and creamy. Heat the olive oil in a medium sauté pan over medium heat. Add the mushrooms and sauté for 5 minutes. Remove 2 oz of mushrooms from the pan, and set aside to top the pizza. Add the garlic and shallot to the pan and cook for one minute more. Stir in the herbs, salt, pepper and nutmeg. Add the wine and simmer for one minute. Stir in mustard and cashew cream. Bring to a simmer, lower heat, and stir until thickened, about two minutes.
Bring a gallon of water and 1 tablespoon of salt to boil. Add the haricot verts and cook for 3-4 minutes, then drain and shock in a large bowl of ice water to stop the cooking. Drain.
Spread the mushroom sauce evenly over the crust and top with the blanched green beans, reserved sautéed mushrooms, and crispy onions.
Bake at 425ºF for 15-17 minutes, or until the crust is golden brown.
Kids can do:
Dip onions in flour
Blend cashews and water
Spread mushroom sauce over crust