Jul 02, 2020
Grilled French Fry Pizza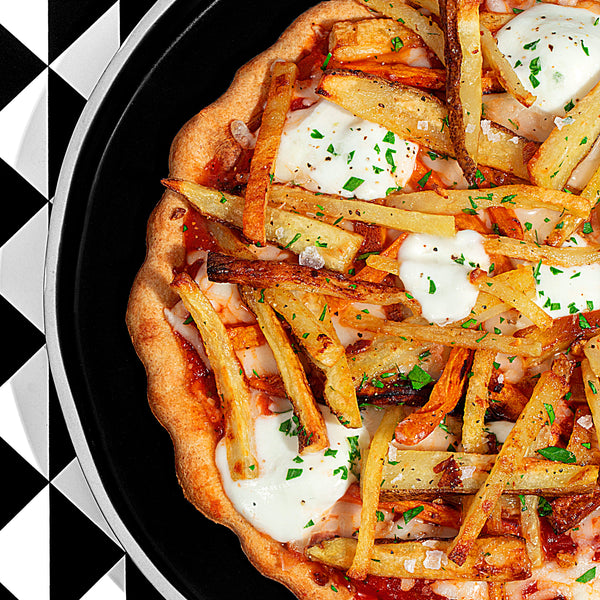 Ingredients:
1 russet potato
1 sweet potato
3 tablespoons neutral high-heat oil, such as safflower oil
3 cloves garlic, minced
1 tablespoon dried parsley, plus more for garnish
1/4 red pizza sauce
1/4 cup shredded mozzarella
2 small mozzarella balls, sliced
salt and pepper to taste
Instructions:
Scrub and slice both potatoes into 1/4-inch-wide sticks.
Place the potatoes in a large bowl, then pour very hot tap water over the top to cover the potatoes by about 1 inch. Let sit at least 10 minutes or up to an hour.
Drain and pat dry the potatoes then add to a medium bowl with the oil, salt and pepper; toss to coat, then transfer to a well-oiled pan.
Bake for 20 minutes, then remove from heat, flip and cook for 10-15 more minutes.
Remove from heat, return to a bowl and toss with garlic, parsley and more salt then allow to cool slightly.
Turn your grill to medium heat.
Spread the pizza sauce onto the crust and top with the shredded mozzarella, then the fries and finish with the mozzarella slices on top. Sprinkle with additional parsley, salt and pepper.
Place the crust directly onto grill grates or on grill-safe pan and cook for 11-15 minutes or until desired crispiness is achieved.
Kids Can Do: 
Toss the fries in the oil
Sprinkle the cheese
Add the fries to the pizza