May 21, 2020
Grilled Honey Sriracha Chicken Pizza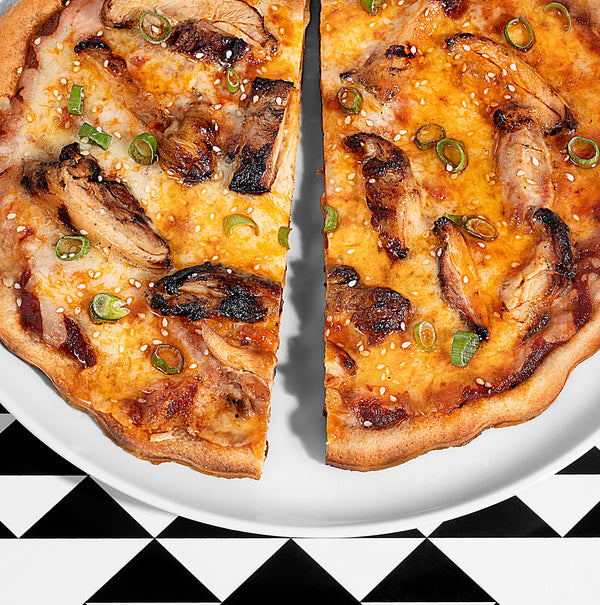 Ingredients
4 boneless, skinless chicken thighs
1 1/2 tablespoons honey
3 cloves garlic, minced
3 tablespoons tamari or soy sauce
1 tablespoon Sriracha chili sauce
3 teaspoon rice vinegar or apple cider vinegar
a few dashes of fish sauce
1/4 cup pizza sauce, homemade or store bought
1 tablespoon sriracha sauce
1 cup shredded mozzarella
1/4 cup green onion, thinly sliced
sesame seeds and honey to garnish
Instructions
Whisk together the honey, garlic, soy sauce, sriracha, rice wine vinegar and fish sauce; place the meat in an airtight container, pour the marinade over the chicken and allow it to sit for 30 minutes up to overnight.*
Turn your grill to medium heat.
When ready, cook the chicken on the grill until it is golden brown on both sides, about 5-7 minutes each side.
While the chicken cooks mix together the pizza sauce and sriracha and spread it onto the crust.
Sprinkle the cheese, then slice the chicken and add it over the cheese.
Grill for 11-15 minutes or until the crust is crisp and the cheese is very melty.
Top with green onions, sesame seeds and drizzle with honey.
Makes enough chicken for 2 pizzas.
Kids can do
Whisk the marinade
Mix the sriracha and pizza sauce then spread it onto the pizza.
Add the final toppings after it comes off the grill