Aug 14, 2020
Grilled Korean BBQ Pizza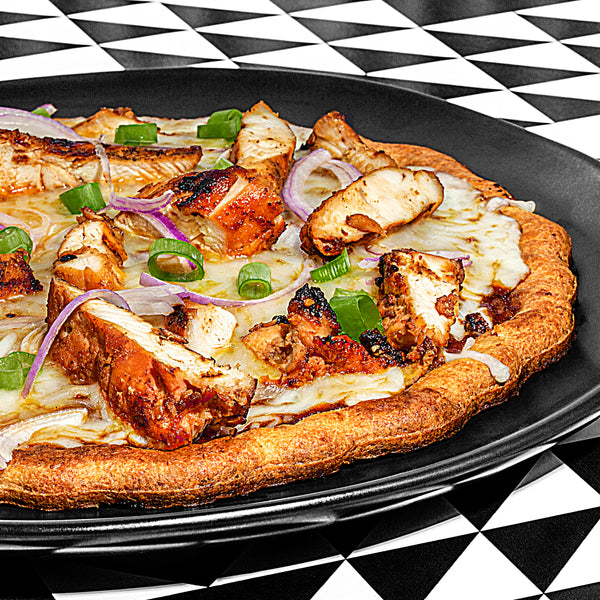 Ingredients
1/4 cup gluten-free soy sauce
2 tablespoons water
1/3 cup brown sugar
1 teaspoon sesame oil
1 teaspoon rice wine vinegar
1 teaspoon ginger
1 tablespoon garlic powder
1/4 teaspoon red pepper flakes
1 tablespoon cornstarch + 1 tbsp water
2 chicken breasts
1/2 cup pizza cheese
few thin slices of red onion
2-3 scallions, chopped
Instructions
Whisk together the soy sauce, water, brown sugar, sesame oil, rice wine vinegar, ginger, garlic powder and red pepper flakes; in a small sauce pan and bring to a boil.
When boiling, whisk together the cornstarch and water until there are no lumps then whisk into the pan and continue cooking until the sauce thickens and sticks to the back of the spoon.
Allow to cool and store in an airtight jar.
Place the meat in an airtight container, pour enough bbq sauce over the chicken to cover and allow to sit for 30 minutes up to overnight.
Turn your grill to medium heat.
When ready, cook the chicken on the grill until golden brown on both sides and cooked through; about 7-9 minutes each side.
Remove the chicken from the grill and set aside. When cool to the touch, slice it up for the pizza.
Spread 1/4 cup of the Korean BBQ sauce onto the crust.
Sprinkle the cheese then layer the chicken and red onion.
Grill for 11-15 minutes or until the crust is crisp and the cheese is very melty.
Remove from the grill and top with green onions.
Kids Can Do
Measure out ingredients for sauce
Pour the sauce over the chicken
Sprinkle the cheese and add onions to pizza