Aug 12, 2020
Grilled Strawberry Chicken Ricotta Pizza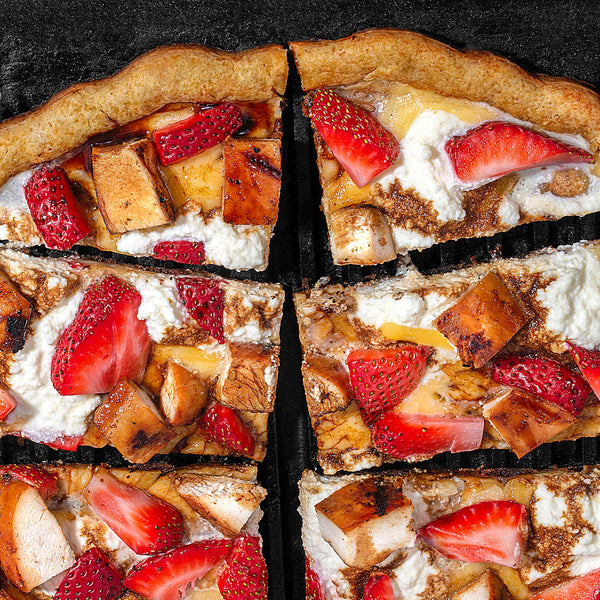 Ingredients
1/2 cup balsamic vinegar
3 tablespoons brown sugar
2 chicken breasts cut in half lengthwise
2 tablespoons extra virgin olive oil
1/4 cup balsamic vinegar
2 garlic cloves, minced
2 teaspoons Italian seasoning
1 teaspoon salt
1/3 cup shredded gouda
1/2 cup ricotta cheese
1 cup strawberries, diced
To make the balsamic glaze:
Mix balsamic vinegar with brown sugar in a saucepan over medium heat, stirring constantly until sugar has dissolved.
Bring to a boil, then reduce heat to low, and continue to simmer until glaze is reduced by half, about 20 minutes.
Store excess in the refrigerator.
Instructions
Whisk together the oil, balsamic vinegar, garlic, Italian seasoning and salt.
Coat the chicken in the marinade, cover and chill for at least an hour or up to overnight.
Turn grill to medium, coat the grates with oil and cook the chicken for 5-7 minutes per side. Remove from heat and set aside.
When cool to the touch, dice the chicken.
Sprinkle the gouda onto the pizza then add the ricotta on pizza in dollops about 2 tbsp in size.
Top with strawberries and chicken.
Grill for 11-15 minutes or until the crust is crisp and the cheese is very melty.
Remove from the grill and drizzle with the balsamic glaze.
Kids Can Do
Measure out ingredients for balsamic glaze and marinade
Add toppings to pizza
Drizzle the glaze