Dec 17, 2019
Holiday Wreath Breakfast Pizza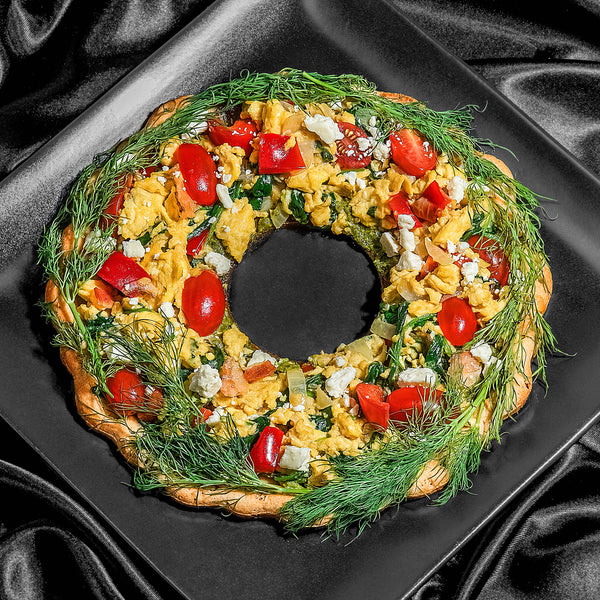 Ingredients
4 eggs
2 tablespoons milk
2 tablespoons red bell pepper, chopped
1/4 small onion, finely diced
1 clove garlic, minced
1 tablespoon olive oil
1/4 cup halved cherry tomatoes
1/4 cup fresh spinach
3 slices cooked bacon, chopped
Kosher salt, to taste
Freshly ground black pepper, to taste
3 tablespoons pesto (homemade or store-bought)
1/4 cup crumbled feta cheese
1 tablespoon minced fresh basil
Fresh dill
Instructions
Preheat oven to 425ºF.
In a large bowl, whisk eggs and milk until smooth. Set aside.
In a large nonstick skillet over medium-high heat, heat the olive oil. Sauté pepper, onion, and garlic until tender, about 5 minutes. Reduce heat to medium and add eggs to pan. As eggs begin to set, gently fold eggs with a spatula until eggs are cooked, about 5 minutes.
Remove eggs from heat and fold in cherry tomatoes, spinach, and bacon. Season with salt and pepper to taste.
Using a round cookie cutter, cut a circle in the middle of the Naked Crust to make the "wreath". You can save the center piece for another use.
Spread pesto in an even layer over the crust. Top with scrambled eggs.
Bake 11-13 minutes, or until crust is just beginning to crisp up.
Remove from oven, and top with crumbled feta, and fresh basil.
Garnish with fresh dill.
Additional Info
Prep time: 10 minutes
Total time: 40 minutes