Aug 09, 2021
Keto Bacon Spinach Artichoke Pizza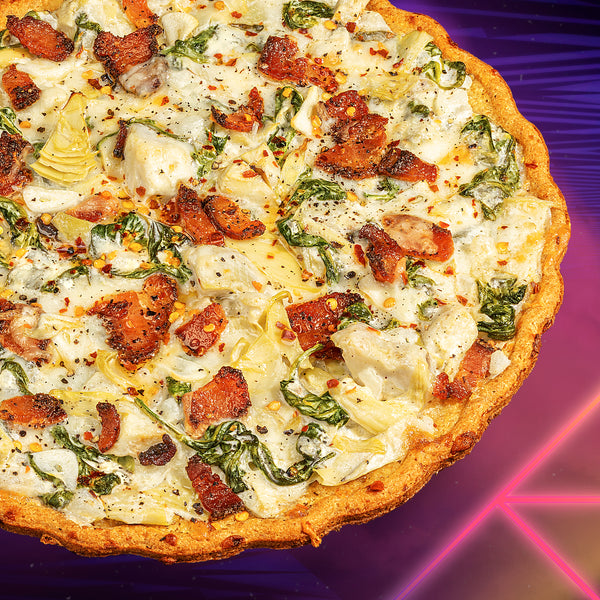 Ingredients
Spinach Artichoke Spread:
1 tablespoon unsalted butter
3 tablespoons finely chopped yellow onion
1 ounce cream cheese
1/4 cup shredded Monterey Jack cheese
2 cups baby spinach
1 cup chopped artichoke hearts
1 tablespoon avocado oil mayonnaise
1 teaspoon red wine vinegar
¼ teaspoon salt
1/4 teaspoon freshly ground black pepper
Toppings:
1/2 cup Monterey Jack cheese
1 clove garlic, sliced
2 slices cooked bacon, crumbled
Red pepper flakes (optional)
Instructions
Preheat oven to 420 F. Place baking sheet on middle rack while oven preheats.
In a medium non-stick pan over medium heat, melt the butter. Add the onions, and sauté until translucent, about 2-3 minutes. Add the cream cheese and Monterey Jack cheese, and stir until melted. Stir in the spinach and artichokes until spinach has wilted completely. Stir in the red wine vinegar, salt and pepper. Remove from heat and stir in mayonnaise.
Spread warm spinach artichoke sauce over the base of the frozen pizza crust. Top with remaining cheese, garlic slices, and crumbled bacon.
Place pizza directly on the preheated baking sheet. Cook 11-14 minutes, or until cheese has melted and the crust is golden brown.
Remove from oven, sprinkle with red pepper flakes, and enjoy.
Nutrition Facts (Per Pizza)
Total Fat: 111g
Saturated Fat: 47 g
Polyunsaturated: 3g
Monounsaturated: 11g
Carbs: 60g
Dietary Fiber: 25g
Net carbs: 35g
Protein: 60g