Nov 19, 2021
Lasagna Pinwheels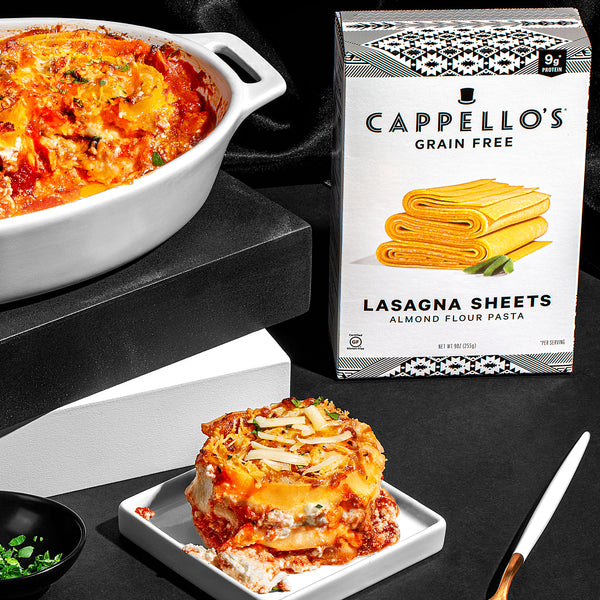 Ingredients
For the Béchamel Sauce:

½ cup (1 stick) unsalted butter, cut into cubes

1 shallot, minced 

1 ½ teaspoons Italian seasoning 

1 teaspoon kosher salt 

½ teaspoon ground black pepper 

¼ cup almond flour 

1 teaspoon arrowroot starch 

1 cup whole milk 

For the Sausage Filling:

1 tablespoon olive oil 

1 pound Italian sausage, casing removed 

1 cup yellow onion, diced 

2 cloves garlic, minced 

¼ cup vegetable broth

¼ cup tomato paste 

1 teaspoon kosher salt

½ teaspoon ground black pepper 

¼ teaspoon red pepper flakes 

For Assembly:

20 ounces tomato sauce 

1 cup shredded mozzarella 

1 cup grated parmesan cheese 

½ cup ricotta cheese 

1 tablespoon fresh Italian parsley, chopped 
Instructions
Make the béchamel sauce: 

In a 2-qt saucepan over medium heat, melt the butter. 

Add shallots, Italian seasoning, salt, and black pepper to the pan. Cook, stirring occasionally, until shallots are translucent, about 2 minutes. 

Whisk in almond flour and arrowroot starch. Cook until mixture starts to bubble, then whisk in milk. 

Cook, whisking constantly until sauce thickens, 3-4 minutes. 

Remove from heat, pour into a medium mixing bowl, and place in the refrigerator to cool. 

While the béchamel is cooling, cook the sausage: 

To a 12-inch nonstick skillet placed over medium heat, warm the olive oil. Add sausage, onion, and garlic to the pan. Cook, breaking up the sausage into bite-sized pieces until meat is no longer pink and onions are soft, 7-9 minutes.

Add vegetable broth, tomato paste, salt, black pepper, and red pepper flakes to the pan. Cook until the broth has evaporated and sauce is thick, 4-5 minutes. 

Transfer sauce to a medium mixing bowl and place in the refrigerator to cool. 

When béchamel and sausage filling is cool you can assemble the pinwheels. Preheat oven to 400 F.

Pour tomato sauce into the base of a 3-quart casserole dish. 

Lay a lasagna sheet on a work surface. Spread a thin layer of béchamel evenly across the lasagna.

Sprinkle a thin layer of parmesan and mozzarella over the béchamel. 

Place another sheet of lasagna on top. Spread a layer of sausage filling evenly over the top. 

Starting from one end, roll the layered pasta into a log. Slice log in half and place each pinwheel into the sauce with the cut sides facing up.

Repeat process with remaining lasagna sheets, filling, and cheese.

Spoon ricotta into the spaces between the pinwheels. Top pinwheels with any remaining parmesan and mozzarella cheese. 

Place in the oven and bake until sauce is bubbling and pasta is golden brown, 30-35 minutes. 

Remove from oven, top with parsley, and serve.
Kids Can Do
Help build the lasagna roll-ups

Pour the tomato sauce into the pan

Sprinkle the cheese on top