Jan 31, 2021
Loaded Nacho Pizza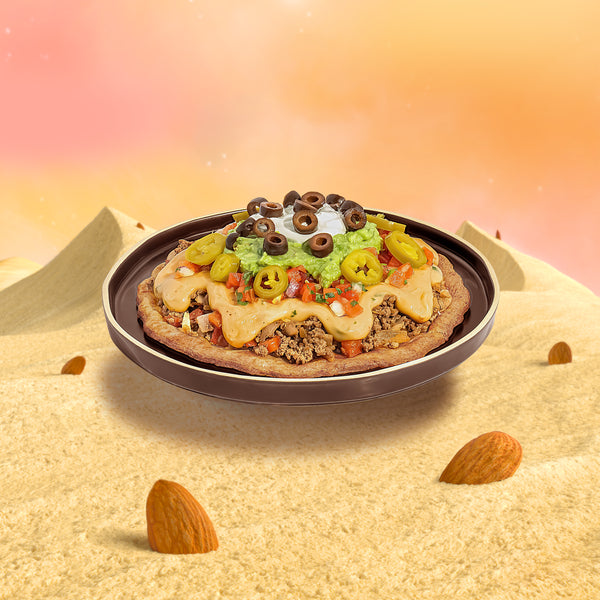 Ingredients
For the Pizza:
3 tablespoons olive oil, divided
1/2 pound ground beef
1/2 cup yellow onion, diced
1/4 cup red bell pepper, diced
4-ounce can diced green chiles
1/2 teaspoon chili powder
1/4 teaspoon ground cumin
1/4 teaspoon salt
1/4 teaspoon black pepper
For the Nacho Cheese Sauce:
1 tablespoon unsalted butter
1 tablespoon arrowroot starch
1/2 cup whole milk
1/4 teaspoon mustard powder
1/8 teaspoon cayenne pepper
4-ounce block pepper jack cheese, shredded
1 teaspoon cilantro, minced
Optional Toppings:
pico de gallo
guacamole
sour cream
pickled jalapeños
sliced black olives
Instructions
Preheat the oven to 425 F. Place the baking sheet on the middle rack while the oven preheats.
Cook the beef. In a medium pan set over medium-high heat, heat 2 tablespoons oil. Add ground beef, onion, red bell pepper, and chiles to the pan. Cook until veggies have softened and beef has browned, 5-7 minutes. Drain any excess liquid.
Add chili powder, cumin, salt, and black pepper. Stir to combine and cook an additional 1-2 minutes. Remove from heat.
Brush crust with remaining 1 Tablespoon oil. Place pizza directly on the preheated baking sheet. Cook for 11-15 minutes, or until the crust begins to brown.
While the pizza is cooking, make the nacho cheese sauce. In a small saucepan placed over medium heat, melt unsalted butter. Whisk in the starch until it forms a paste.
Add milk, mustard powder, and cayenne pepper. Cook, whisking constantly until sauce thickens slightly and just comes to a simmer.
Remove from heat and add pepper jack cheese and cilantro. Whisk until melted and smooth.

Top baked crust with the cooked meat mixture. Drizzle nacho cheese sauce over the meat and top with desired toppings. Slice and serve.