Sep 02, 2021
Moon Pies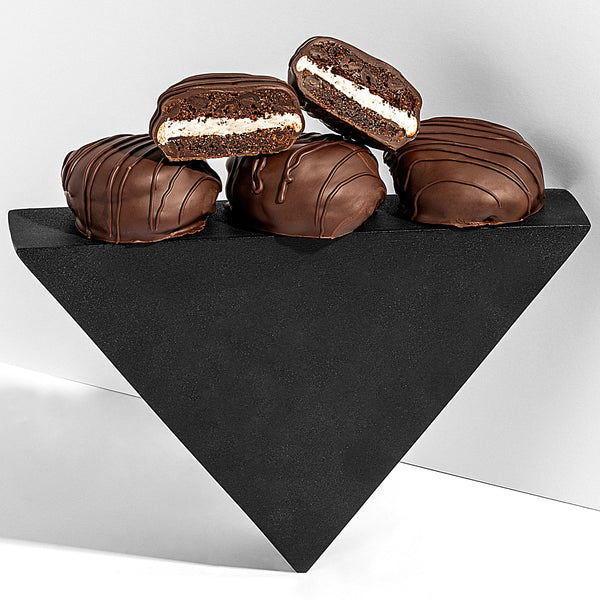 Ingredients
For the Filling:
½ cup marshmallow creme 
For the Chocolate Coating:
12 ounces semi-sweet chocolate chips 
1 tablespoon coconut oil 
Instructions
Preheat the oven to 350 F. Line a baking sheet with parchment paper and set aside. 

Roll cookie dough to ¼-inch thickness. Use a 2-inch cookie cutter to cut dough into rounds. Re-roll dough until you have 16 cookies. 

Place in the oven and bake until cookies have set, 8-10 minutes. Let cool completely before assembling the sandwich cookies. 

When cookies are cool, spoon 1 tablespoon marshmallow creme in the center of a cookie (don't spread it) and top with another cookie to create a sandwich. Place on a baking sheet lined with parchment paper. Repeat with remaining cookies and marshmallow creme. You should have 8 sandwich cookies. 

Place cookies in the freezer until the cream is firm, about 15 minutes. 

While cookies are freezing, make the chocolate coating: To a medium heatproof bowl add chocolate chips and coconut oil. Microwave on high in 30-second intervals, stirring between each interval, until chocolate is melted and smooth. Let cool slightly before dipping cookies. 

Remove cookies from the freezer. Dip a cookie into the melted chocolate, turning it over to completely coat the cookie in chocolate. Use a fork to remove the cookie from the chocolate, letting the excess chocolate drip off. 

Place the cookie back onto the baking sheet lined with parchment paper. 

Repeat process with remaining cookies. 

Pour remaining chocolate into a piping bag or Ziploc bag. Snip the end with scissors and drizzle the tops of the cookies with the chocolate. Let the chocolate set and then serve immediately. 
Kids Can Do
Help cut the cookies

Help spread the marshmallow cream

Drizzle the remaining chocolate on top