Nov 14, 2019
Mushroom, Leek and Brussels Sprouts Pizza (Plant Paradox friendly)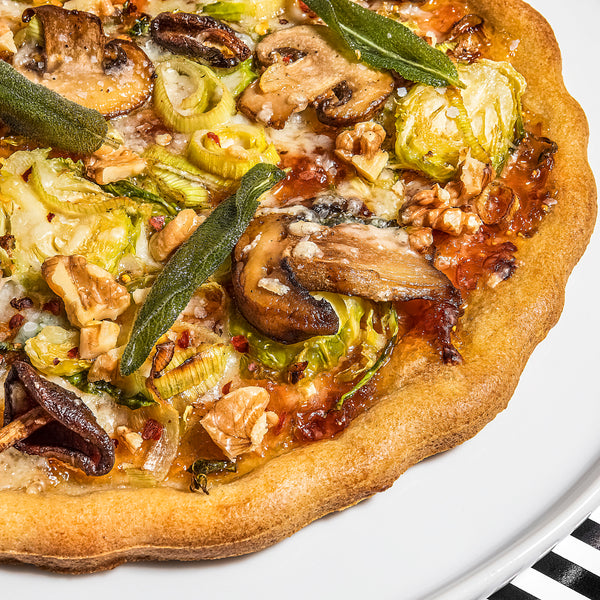 Ingredients
1 tablespoon butter
1 clove garlic, minced
1/2 cup sliced mushrooms (we used cremini and shitake)
¼ cup sliced leeks
¼ teaspoon sea salt
Pinch of freshly ground black pepper
2 tablespoons fresh basil, chopped
3 tablespoons extra-virgin olive oil, divided
1/2 cup shredded Brussels sprouts
2 tablespoons fig jam
1/2 cup shredded gruyere cheese
5 fresh sage leaves
1/8 teaspoon red pepper flakes
1 tablespoon chopped walnuts
Instructions
Preheat oven to 425ºF.
In a large skillet, melt butter over medium heat. Add garlic, mushrooms, and leeks. Sprinkle with salt and pepper and sauté 5-7 minutes. Stir in basil.
Toss together 1 tablespoon of olive and Brussels sprouts in a large bowl.
Spread fig jam evenly over the pizza crust, and sprinkle with half of the gruyere.
Top with the mushroom mixture and Brussels sprouts. Sprinkle on remaining cheese.
Bake 14-16 minutes, or until crust is crispy and golden brown.
Meanwhile, heat 2 tablespoons of olive oil over medium-high heat in the same skillet used for the mushrooms. Fry sage leaves about 2 minutes per side, or until crispy. Remove and drain on a paper towel.
Once pizza is cooked, remove from oven and top with red pepper flakes, walnuts, and crispy sage leaves.
Additional Info
Prep time: 10 minutes
Total time: 40 minutes