Aug 27, 2020
Naked Crust Pita Chip Charcuterie Board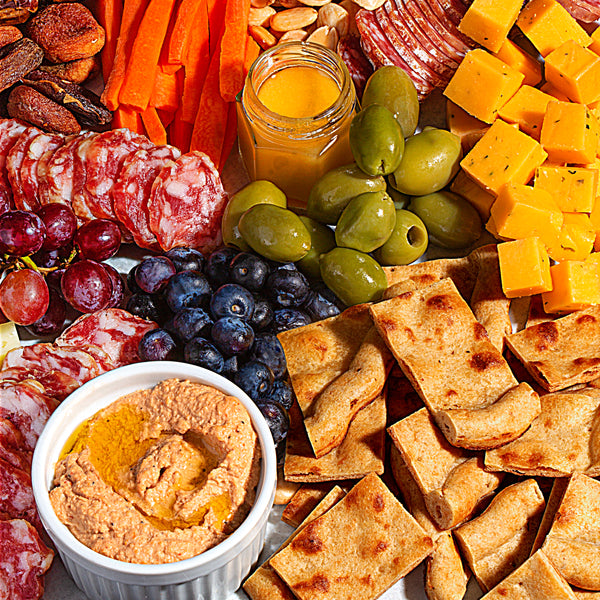 Ingredients
1 cup cashews, soaked for at least 30 minutes in hot water
Juice of 1 lemon
1/4 cup sun-dried tomatoes
1/2 teaspoon salt
1/2 teaspoon ground black pepper
1/4 teaspoon paprika
2-3 gourmet cheeses ranging from soft to hard
assorted fruits and vegetables
dried fruits
fancy mustard
honey
stuffed olives
marcona almonds
Instructions
Preheat the oven to 425 F.
Cut the crust into 2-inch rectangular pieces and arrange on a baking sheet in a single layer.
Bake for 5-8 minutes.
While the chips cool, drain water from cashews and blend with 1/3 cup water, lemon juice, sun-dried tomatoes, salt, pepper and paprika.
Scoop into a small ramekin and place on a board then add your other snacks.
We've used: manchego cheese, cotswold cheese, green olives, truffle salami, honey, marcona almonds, dried apricots, dates, grapes, blueberries and carrots.
Kids Can Do
Add the ingredients into the blender
Have fun arranging the items on the board