Jun 30, 2016
Nutty Pesto Fettuccine
I was super excited when I came across Cappello's gluten free pasta at WholeFoods. Low on the glycemic index and made primarily from almond flour and egg, Cappello's fettuccine has a deliciously rich, buttery flavor and silky consistency. I was blown away by how simple and delicious it tasted, especially paired with a yummy pesto sauce. It is a comforting, yet elegant dish that the entire family will enjoy.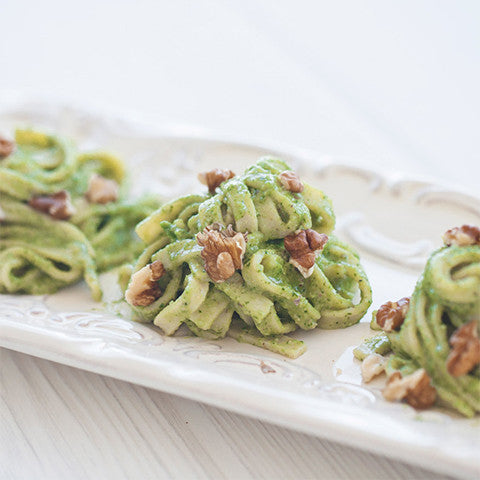 Ingredients
Cappello's fettuccine
1 cup walnuts
2 cups arugula
2 cups baby spinach
1 jalapeño or serrano pepper, chopped with seeds if you like it spicy
2 garlic cloves
2 cups grated asiago/parmesan cheese
1/4 cup olive oil
4 tbsp water
Salt & pepper to taste
Instructions
Cook pasta as per directions in boiling water for about 2-3 minutes.
Toss all of the in ingredients in a food processor and blend until smooth. Add an extra tbsp of water if the pesto seems too thick.
Drain the pasta and toss with fettuccine. Garnish with parmesan cheese and walnuts.
Additional Info